This is not the recipe I had planned to share with you this week, but when I saw these pictures I realized, it's time y'all met the fabulous chocolate cake I made for my birthday!
Isn't she beautiful!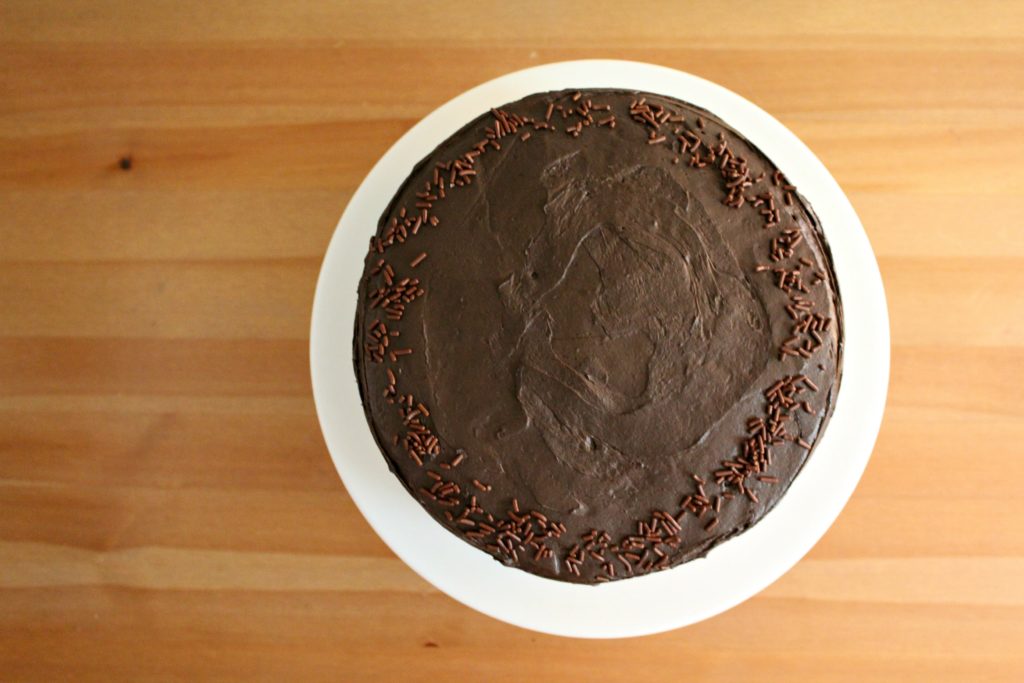 This six layer beauty starts with the same classic chocolate cake recipe used for my Double Chocolate Birthday Cake last year. This recipe makes enough batter for 2 deep layers, or you can split it into three pans. I chose to bake it in three pans and then cut them in half to have six layers. Yes, you read that right, SIX layers of chocolate cake. When you're turning 30 it's definitely go big or go home when it comes to the birthday cake.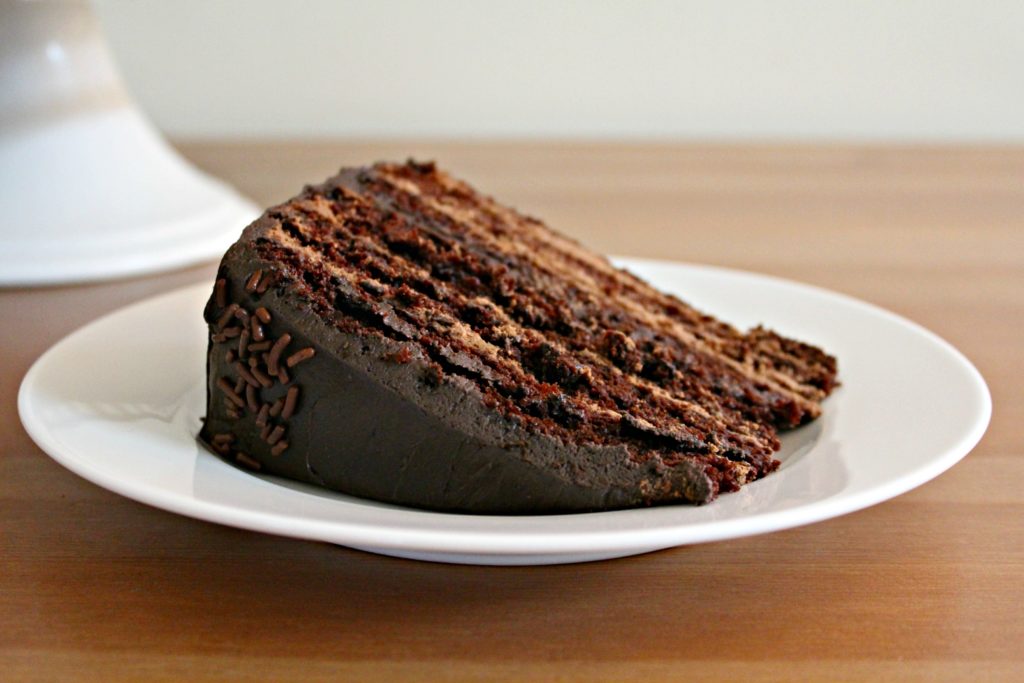 I knew I wanted chocolate ganache to be part of the cake, but I wasn't sure where to start. I found this article very helpful. She walks you through several different types of ganache and when you would want to use each of them. I chose a make an unsweetened whipped ganache. At first I worried about it not being sweetened but in the end it was the perfect balance to the sweetness of the cake and the frosting that I chose.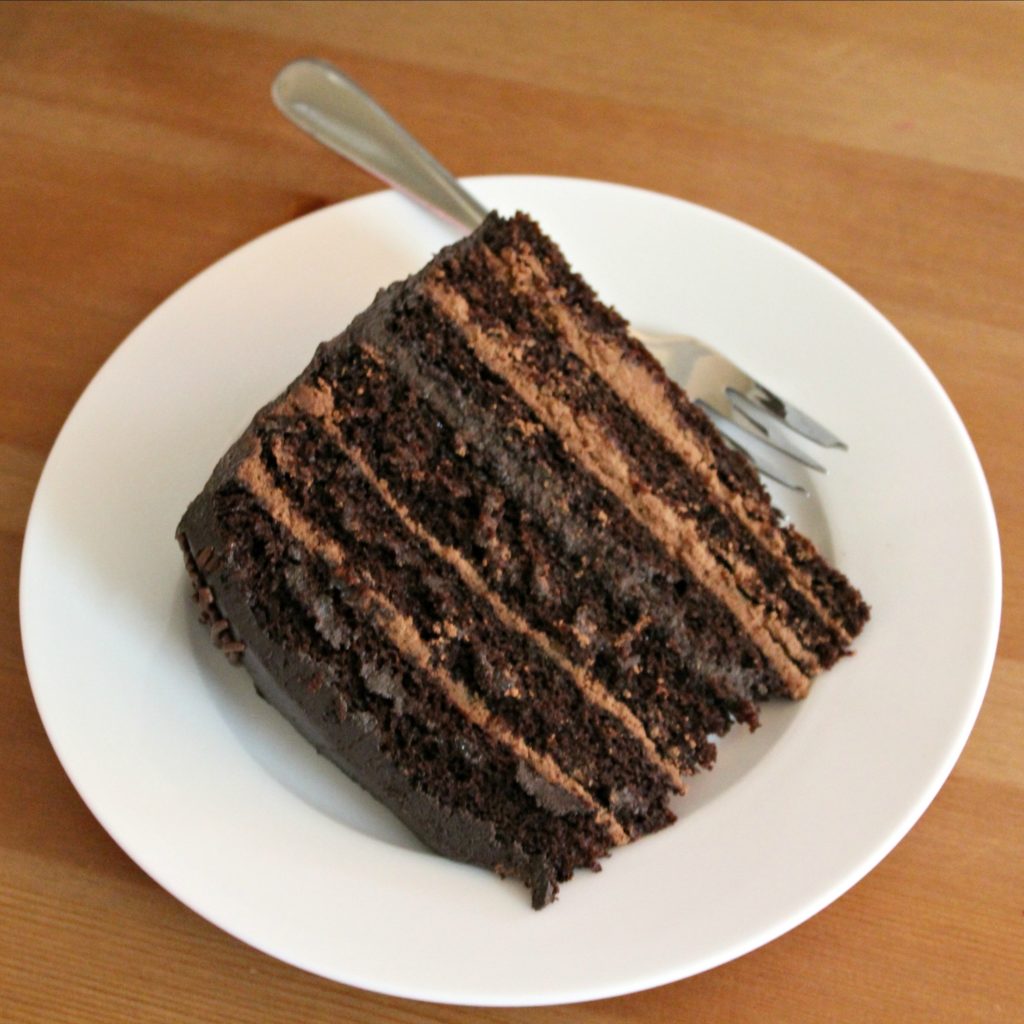 I started out with the intentions of frosting the entire cake with the amount of Whipped Chocolate Ganache that I have listed below. But after the second layer, I realized that there was no way I had enough ganache and it was late and I did not want to go back to the grocery store! So, it was Dark Chocolate Cream Cheese Frosting to the rescue!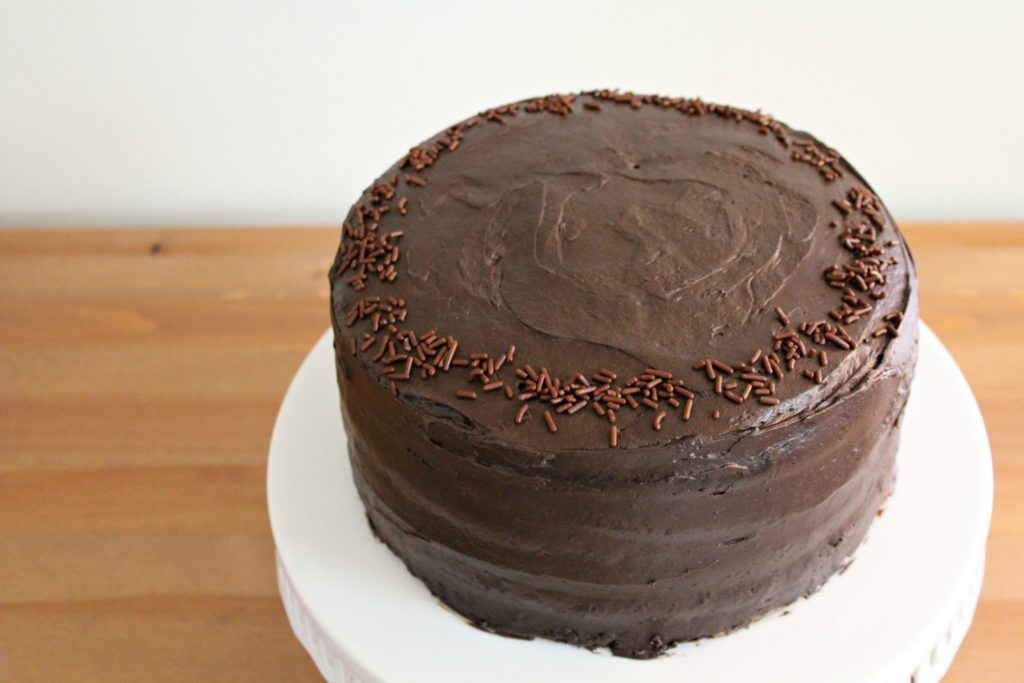 I had a blast making this cake and hope you do too!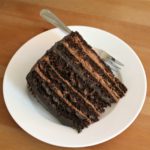 Six Layer Whipped Ganache filled Chocolate Cake with Dark Chocolate Cream Cheese Frosting
Ingredients
Whipped Chocolate Ganache
8

ounces

quality chocolate

-

, I used Ghirardelli 80% bars I found in the baking aisle at my grocery store.

2

cups

heavy cream
Dark Chocolate Cream Cheese Frosting
8

ounce

brick cream cheese

-

room temperature

1/4

cup

unsalted butter

-

room temperature

2 1/2 - 3

cups

powdered sugar

-

sifted

1/2

cup

cocoa powder

-

I used Hershey's special dark
Instructions
Cake
Bake the cake in three layers using the Double Chocolate Cake recipe. Chill the cake layers in the fridge for at least 30 minutes, before you slice into 6 layers. This will help them stay together a little better while you are slicing them. The layers will be thin.
Whipped Chocolate Ganache
Coarsely chop the chocolate and transfer to a heatproof bowl.

In a small sauce pan over medium-high heat, bring the cream to a boil. Pour cream over the chopped chocolate and let stand for 5-10 minutes, or until the hot cream melts the chocolate and it begins to cool. Whisk the mixture in one direction until smooth and creamy, this may take a few minutes.

Cover the ganache and place in the fridge for about 1 hour, or until the ganache is thickened. Using an electric mixer, whip the ganache until it is fluffy and light in color. Be careful not to over whip.

Dark Chocolate Cream Cheese Frosting
In the bowl of an electric mixer, beat cream cheese and butter on medium speed until smooth and creamy.

With the mixer on low, add in the cocoa powder and whip until combined. Add the powdered sugar, one cup at a time, and whip until frosting is smooth and fluffy.
Assembly
Place about a tablespoon of the ganache onto the middle of your cake stand and place your first cake layer onto the stand. Stick small pieces of parchment paper under the cake to keep extra frosting from getting on the stand. Spread about 1/2 -3/4 cup of ganache on top and spread out to, but not over the edges. Top with your second cake layer and spread about 1/2 -3/4 cup of ganache on top and spread out to, but not over the edges. Place your third layer on top and spread about 1/2 -3/4 cup of frosting on top and spread out to the edges. Layers four and five will be topped with the remaining ganache, in the same manner as able. Now place your sixth and final layer on top and spread the remaining frosting over the top and down the sides of the cake. Remove the parchment paper.

Refrigerate 1-2 hours before serving, removing from the fridge about 5 minutes before serving to make slicing easier. To get pretty slices of this cake, run the knife under hot water and wipe dry before cutting. Wipe off the knife between slices as needed. Store leftovers in the refrigerator.