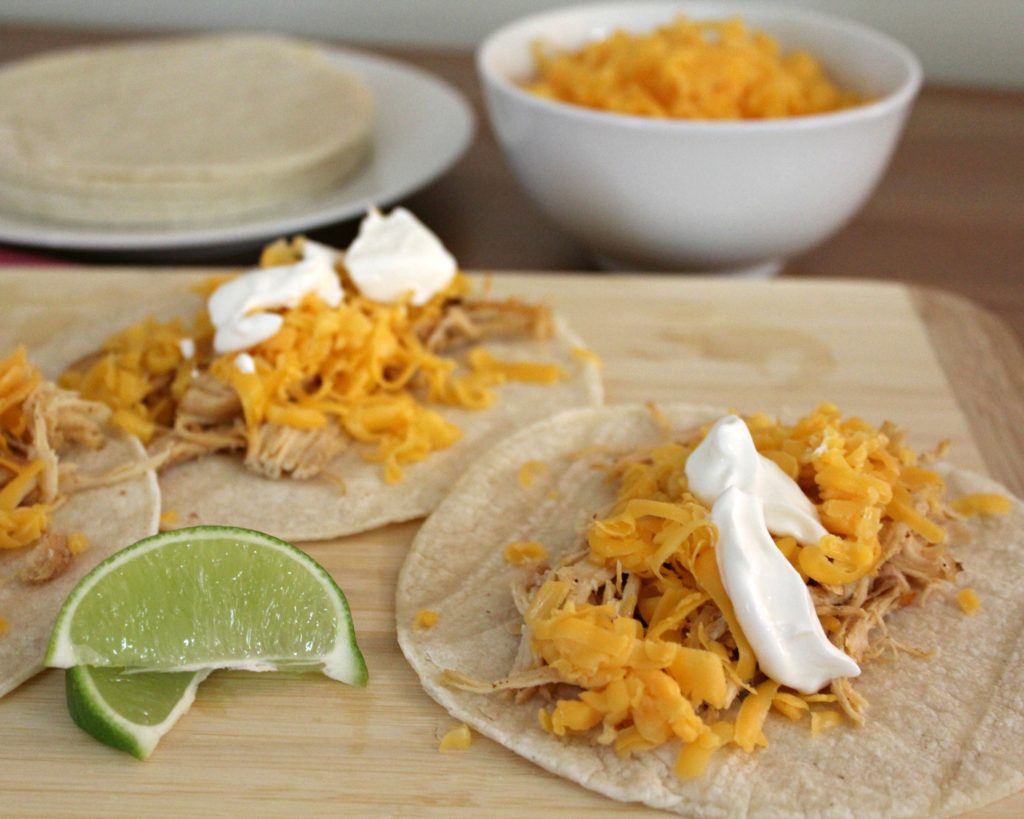 For the longest time, I was anti-slow cooker. But over the last 2 years I have done a complete 180 on my feeling about the slow cooker and I'm a total fan girl now! Once of the things that helped change my mind was finding some really great recipes that we love. I have a very simple 4 quart slow cooker that we got as a wedding gift six years ago, and while it works just fine for the recipes I like to make, it might be time to upgrade soon.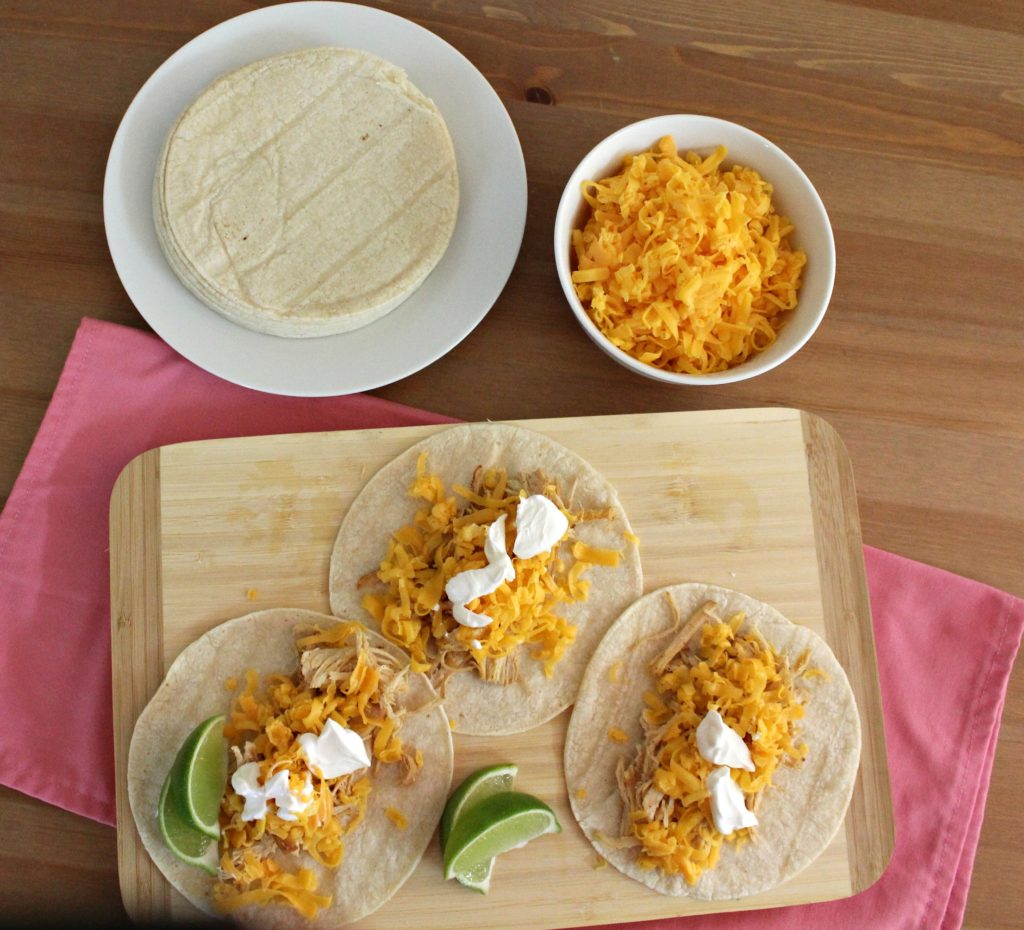 Now let's talk about the reason you are here today, these amazingly flavorful Crispy Lime Chicken Tacos! You start by putting your chicken in the slow cooker and covering it with chicken broth and some basic spices. After the chicken is completely cooked in the slow cooker, it's time for the magic to happen. Next we are going to bake the chicken. Yes, you read that right, the magic happens when you BAKE the chicken! I know you are thinking, but wait, cooking the chicken twice is going to make it tough. But don't worry, it doesn't.
After you remove the chicken from the slow cooker, you are going to shred it with two forks, spread it out on a rimmed baking dish, and then bake it for about 15 minutes at 400. Baking the chicken at the high temperature gets rid of the excess liquid in the chicken and crisps up the edges (that's where the "crispy" in the name comes from). Removing the excess liquid prevents soggy tacos! Once the chicken is slightly crispy, you'll drizzle it with fresh lime juice. Soggy tacos = EW! Fresh lime juice = AMAZING flavor!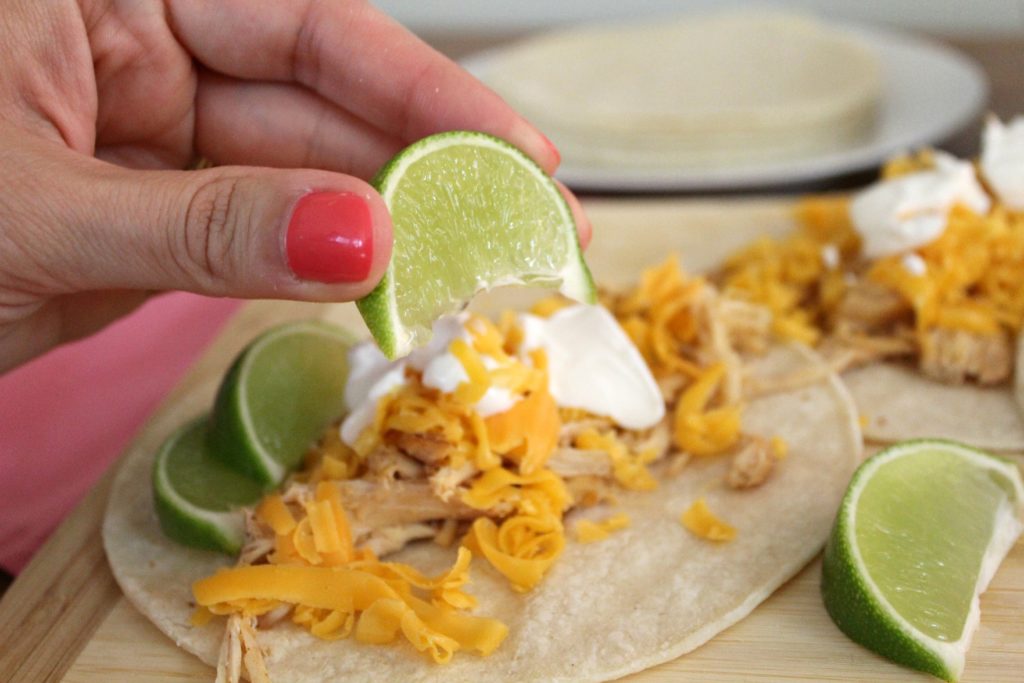 Now on to the tortillas, my absolute favorite tortillas to serve with this chicken are soft corn tortillas. But this chicken is also delicious with white or whole wheat flour tortillas. You can't go wrong with traditional tacos toppings like, shredded cheese, shredded lettuce, a little sour cream, and taco sauce. But my favorite combo is corn tortillas, jack cheese, and guacamole. YUM!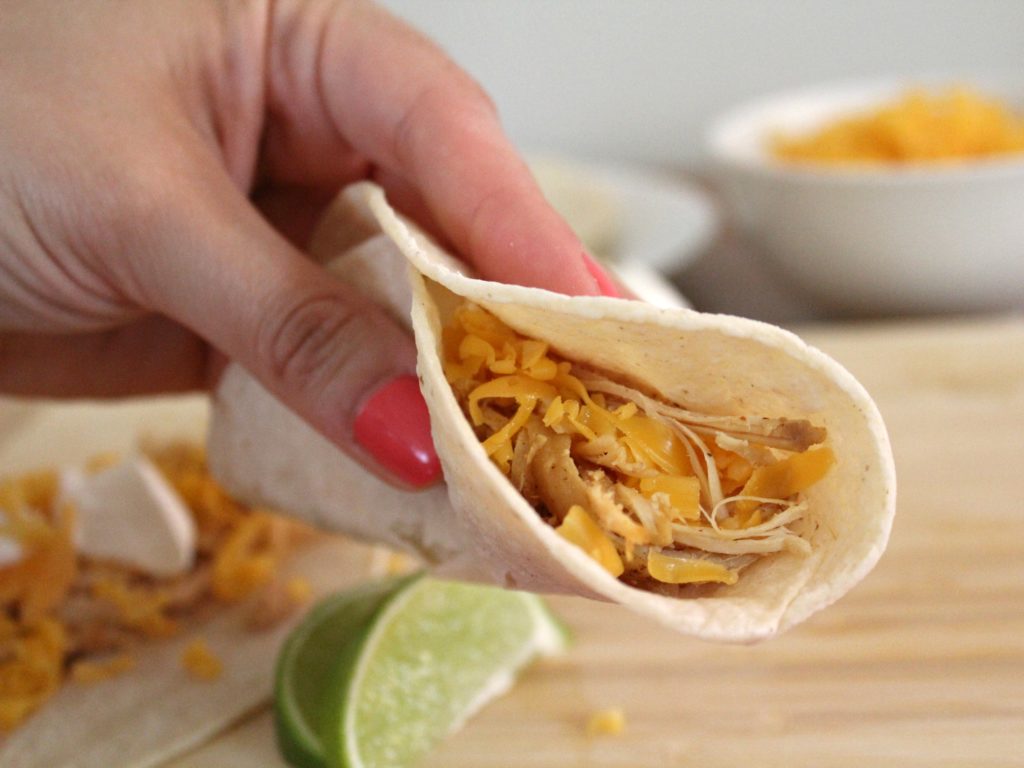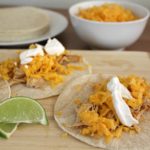 Slow Cooker Crispy Lime Chicken Tacos
For even quicker prep, you can sub the spices listed below for 2 teaspoons of your favorite taco seasoning.
Ingredients
Ingredients:
2-3

pounds

boneless skinless chicken breasts

1/2

cup

onion

-

diced

1-2

cloves

garlic

-

minced

1

teaspoon

cumin

1

teaspoon

chili powder

1/4

teaspoon

salt

1/2

teaspoon

black pepper

1

cup

low-sodium chicken broth

2

limes

-

juiced
Instructions
Place chicken breasts in the bottom of the slow cooker and top with onion, garlic, cumin, chili powder, salt, and pepper. Pour chicken broth over chicken and cover slow cooker.

Cook on low for 6-8 hours or until chicken is cooked through and tender.

Preheat the oven to 400. Spray a large rimmed baking sheet with non-stick spray, use a slotted spoon to move the chicken from the slow cooker to the baking sheet. Using two forks, shred the chicken and spread into an even layer.

Place chicken into the oven for 5 minutes, or until the edges begin to get crispy. Remove the chicken from the oven and pour 1/2 cup of the slow cooker juices over the chicken, and stir to combine. Bake chicken another 5 minutes and pour another 1/2 cup of the juices over the chicken, stir to combine, and bake for a final 5 minutes. Pour the lime juice over the chicken and stir to combine.

Serve the chicken in tortillas with your favorite toppings.
Notes
Recipe slightly adapted from here.