So last weekend I celebrated my birthday and like most food bloggers, I made my own Double Chocolate Cake. Now don't go hating on my hubby for making me make my own birthday cake, he offered to make one for me. He actually has made me a birthday cake in the past, but this year I was dreaming of this amazing Double Chocolate Cake that I'm sharing with you today.
This recipe makes a lot of cake. Unless your cake pans have unconventionally high sides, I recommend splitting the batter into three pans. Since I only have two 9-inch cake pans, I bake two layers and then wash one of the pans and bake the third layer. It's a pain, but worth it. I should just buy a third pan, but these pans are in perfectly good condition and are from my grandma's kitchen. I can't bring myself to replace them.
Now let's talk about the cake, it has a delicious chocolate flavor and unlike most of the from scratch chocolate cakes I've made over the years, it is incredibly moist thanks to the oil and buttermilk. I am usually a strictly butter girl, but chocolate cake needs oil to keep it moist. This deliciously moist chocolate cake is then paired with rich and creamy chocolate frosting to make it a chocolate lover's dream.
I might have eaten leftover cake for breakfast and/or dinner multiple times this week…shhh, don't tell! Happy Birthday to me!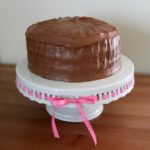 Double Chocolate Cake
This deliciously moist chocolate cake is then paired with rich and creamy chocolate frosting to make it a chocolate lover's dream.
Ingredients
Cake
1 1/4

cups

unsweetened cocoa powder

2 1/2

cups

all-purpose flour

2 1/2

cups

sugar

2 1/2

teaspoons

baking soda

1 1/4

teaspoons

baking powder

1 1/4

teaspoons

salt

2

large eggs and 1 large egg yolk

-

room temperature

1 1/4

cups

warm water

1 1/4

cups

buttermilk

1/2

cup

plus 2 tablespoons vegetable oil

1 1/2

teaspoons

vanilla extract
Frosting
1

cup

unsalted butter

-

softened to room temperature

4 1/2

cups

powdered sugar

3/4

cup

unsweetened cocoa powder

1/2

cup

whole milk

1

tablespoon

light corn syrup

1/8

teaspoon

salt

2

teaspoons

vanilla extract
Instructions
Cake
With the baking rack in the middle of the oven, preheat the oven to 350 degrees.

Prepare your 9-inch round pans by cutting a piece of parchment paper to line the bottom of the pan. Grease the pans, place the parchment paper in the bottom of the pan and lightly grease again. Then lightly dust the pans with flour.

In a large mixing bowl or in the bowl of a stand mixer, sift together the cocoa, flour, sugar, baking soda, baking powder, and salt. Add the eggs, yolk, warm water, buttermilk, oil, and vanilla. Mix on low speed, scraping the bowl down as needed, until everything is smooth and combined. Continue mixing for 2-3 minutes.

Divide the batter evenly between the prepared pans. Bake the cakes for about 28-30 minutes, until a toothpick inserted into the middle comes out clean or with moist crumbs. Be careful not to overbake! Remove the pans from the oven and set on a wire rack to cool for 15 minutes. Gently run a thin knife around the edges of the pans and turn out the cakes, removing the parchment paper liners from the bottom of the cakes. Let the cakes cool completely, top sides ups, on a wire rack. Note: to speed up this process you can place the cakes in the refrigerator or freezer for 10-15 minutes.
Frosting
In a large mixing bowl or in the bowl of a stand mixer using the whisk attachment, beat the butter on high speed until smooth and creamy, about 2 minutes. Sift the sugar and cocoa together. On low speed, gradually add the sugar and cocoa to the butter. Then add the milk, corn syrup, salt, and vanilla. Once combined, increase to high speed and beat for 3 minutes. Frosting should lighten in color and be light and fluffy. Add an additional tablespoon or so of sugar or milk if needed to reach your desired consistency.
Assembly
If needed, trim the tops of the cakes with a serrated knife to create a flat surface (be careful!). Place about a tablespoon of frosting onto the middle of your cake plate or stand and place your first cake layer (you want to use the flattest layer for the base) onto the stand. Stick small pieces of parchment paper under the cake to keep extra frosting from getting on the stand. Spread about 1/2 -3/4 cup of frosting on top and spread out to the edges. Next top with your second cake layer and frost like you did the first layer. Now place your third layer on top and spread the remaining frosting over the top and down the sides of the cake. Remove the parchment paper and enjoy!
Notes
Like I said before this recipe makes a lot of cake. I bake this in 9-inch round pans that are 1 1/2 inches tall and I make three layers. If using pans with higher sides, maybe 3 inches, you should be ok with making two layers. The frosting calls for light corn syrup which I keep on hand for things like chocolate ganache, but you can leave it out or sub with additional milk. Also, the frosting calls for whole milk, which I never have on hand so I put about 1 tablespoon of heavy cream with my 1% milk and it worked beautifully.
This chocolate cake recipe is from Mel's Kitchen Cafe and the frosting is from Sally's Baking Addiction - two of my go to food blogs!