Life is busy and you don't need me to tell you that. This recipe has been a lifesaver when I need to get dinner on the table in 30 minutes or less and we want something other than grilled cheese or french toast. Now don't get me wrong, I'm all for a grilled cheese sandwich and I did an entire post on french toast a couple weeks ago. But some nights you want something that is just as quick and easy, but a little bit fancier. Let me introduce you to this Easy Parmesan Alfredo Sauce that is both easy and fancy.
With only four ingredients, plus salt and pepper, this Parmesan Alfredo Sauce is quick and easy to make. The flavor of the Parmesan cheese shines in this recipe with the simplicity of the other ingredients. Since this sauce is made using cream cheese, you get the rich taste of Alfredo without actually having to use heavy cream. Normally I use 1% milk and 1/3 less fat cream cheese for this recipe, which makes it a little healthier without sacrificing the flavor and texture of the dish.
If there are leftovers, they can be reheated in the microwave or on the stove top, adding additional milk if needed to make it creamy again.  This sauce also makes a fabulous base for a white pizza when paired with my whole wheat pizza crust. Sometimes I simply serve the sauce over pasta with a sprinkling of parsley and other times I add grilled chicken or maybe even steamed broccoli to make it a complete meal.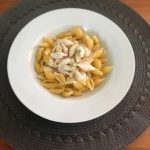 Easy Parmesan Alfredo Sauce
Do you have a go-to pasta dish? Have you ever made alfredo from scratch?
Ingredients
2

tablespoons

butter

4

ounces

cream cheese

-

softened and cut into 6 pieces

1

cup

milk

1

cup

grated Parmesan cheese

1/2

teaspoon

ground black pepper

1/4

teaspoon

salt

-

more to taste, if needed
Instructions
In a medium pot, melt the butter over medium/low heat.

Add the cream cheese, one cube at a time, and stir with a whisk until melted. Continue to whisk until the mixture is smooth and creamy, about 2-3.

Gradually add the milk and whisk quickly to fully incorporate it into the sauce.

Stir in the Parmesan cheese, pepper and salt until the cheese is melted and the sauce is the desired consistency. Serve immediately over hot pasta.
Notes
Like I said above I typically use 1% milk and 1/3 less fat cream cheese for this sauce and would not recommend using fat free options. Makes a little under 1 3/4 cups sauce.
Inspired by this recipe.