Hope you had a great New Year's Eve and New Year's Day! We have a horrible track record for NYE. One of us is usually sick and yep, it happened again this year. So being the party animals that we are, we stayed up until 10:30 pm, took cold medicine, and went to bed. We managed to get ourselves to church on Sunday, barely on time, but we made it. Then we rallied on Sunday afternoon and organized our main storage space, which included a trip to Target to get more plastic totes and an iced coffee…starting the year off right over here. Next on the list is organizing in the kitchen.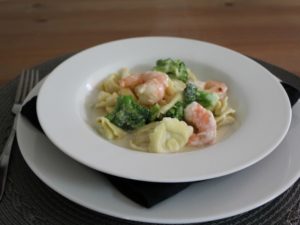 Let's kick off 2017 with a recipe that helps us keep our resolutions to eat healthier and make dinner during the week. This meal is simple and since you boil the pasta, broccoli, and shrimp in the same pot, it is also easy and keeps the number of dirty dishes small. More time to work on your other resolutions like going to the gym, reading throughout the week, or trying multiple new recipes a week (oh wait, maybe I'm the only one with those resolutions). Whatever your resolutions are this year, I don't think many people will argue that they don't need another meal that is simple and delicious in their life. If you are one of those people that turns up your nose at cheese filled pasta, shrimp, and broccoli, I feel sorry for you.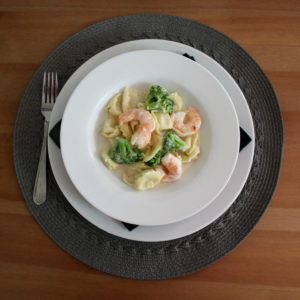 I don't know what it is about cheese tortellini, but I always feel fancier when I eat it. And when the tender, cheese filled pasta is covered with a dreamy cheese sauce that is actually a lightened up version of my favorite Easy Parmesan Alfredo Sauce, you can't go wrong. My husband would consider this one of his favorite meals.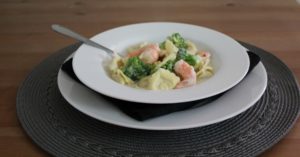 Since boiling pasta isn't high maintenance, you can easily multitask and make the quick homemade sauce. Or if homemade sauce isn't your thing, you can swap it out for your favorite jarred alfredo sauce, but the sauce is super easy, so promise you'll try it at least once, ok?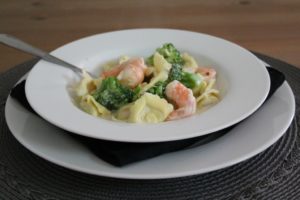 Thanks for stopping by my blog and I hope you enjoy this recipe. Leave me a comment below if you try it and love it! I would also love a shout out or share on Facebook and Instagram.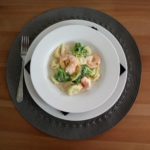 Shrimp and Broccoli with Cheese Tortellini
Tender, cheese filled pasta is covered with a dreamy cheese sauce
Ingredients
1

9 ounce

package fresh cheese tortellini

2

cups

fresh or frozen broccoli florets

8-9

ounces

frozen

-

cooked shrimp

Alfredo sauce:

1

tablespoon

unsalted butter

1

clove

garlic

-

minced

3

ounces

reduced-fat cream cheese

-

cubed and softened

1

cup

1% milk

1

cup

grated Parmesan cheese

Salt and pepper to taste
Instructions
In a large pot, bring water to a boil.

In a medium pot, melt the butter over medium/low heat.

Add the cream cheese, one cube at a time, and stir with a whisk until melted. Continue to whisk until the mixture is smooth and creamy, about 2-3 minutes.

Gradually add the milk and whisk quickly to fully incorporate it into the sauce. Stir in the Parmesan cheese, pepper and salt until the cheese is melted and the sauce is the desired consistency.

Add pasta, broccoli, and shrimp to the water and boil for 5-6 minutes, or according to the package directions for the pasta.

Drain pasta mixture and return to the pot. Pour sauce over pasta mixture and stir to combine. Serve immediately.
Notes
I typically use 1% milk and 1/3 less fat cream cheese for this sauce and would not recommend using fat-free options.