Today we are talking about one of my favorite fall candies and combining them with white chocolate chips to make super soft and melt in your mouth Candy Corn Cookies.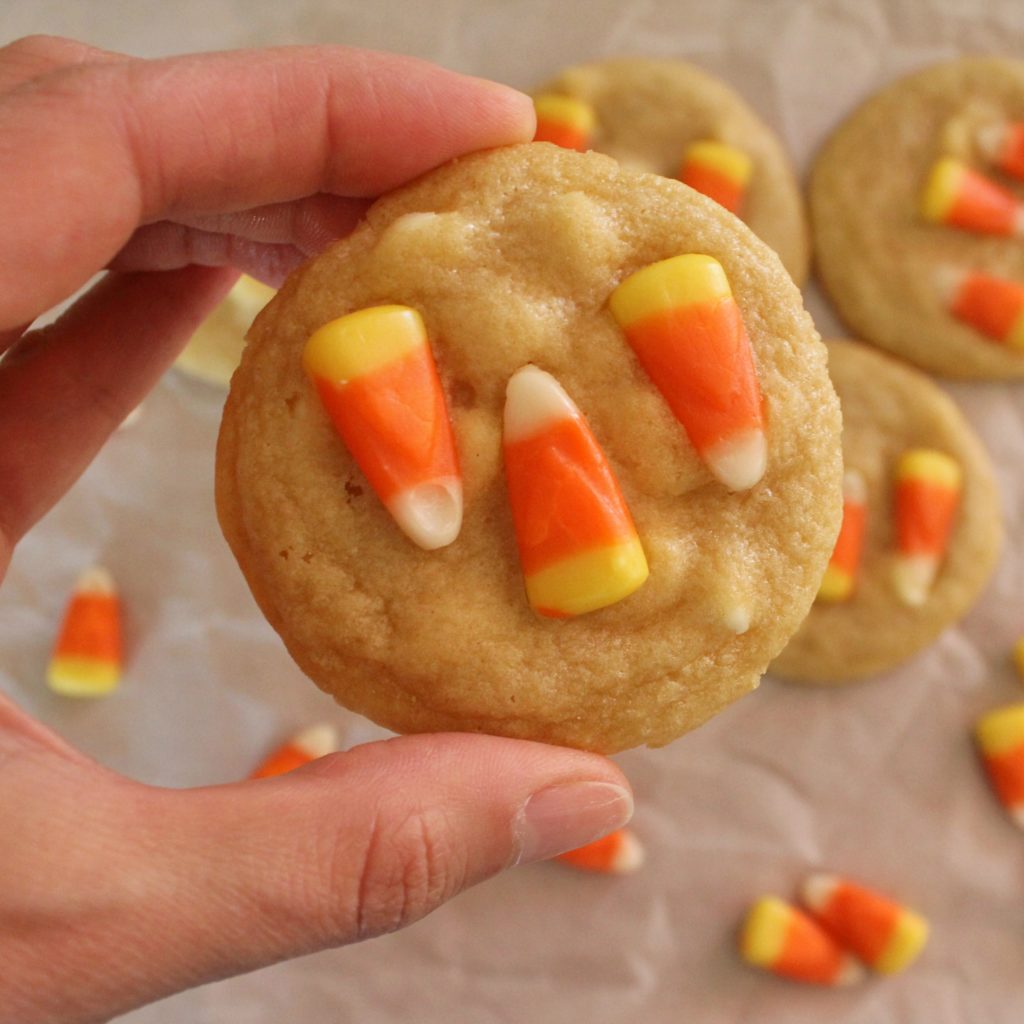 I've been working on seasonal recipes to share with you and today's recipe is just that. We're combining simple ingredients and a couple steps + chilling time to make cookies that are perfect for any fall or Halloween themed party!
I asked Mr. Sam how to describe these cookies and he answered "sweet" and he is not joking. These cookies are made with white chocolate chips and topped with candy corn and are perfect to satisfy your sweet tooth. Oh, and did I mentioned that these cookies are super soft and melt in your mouth.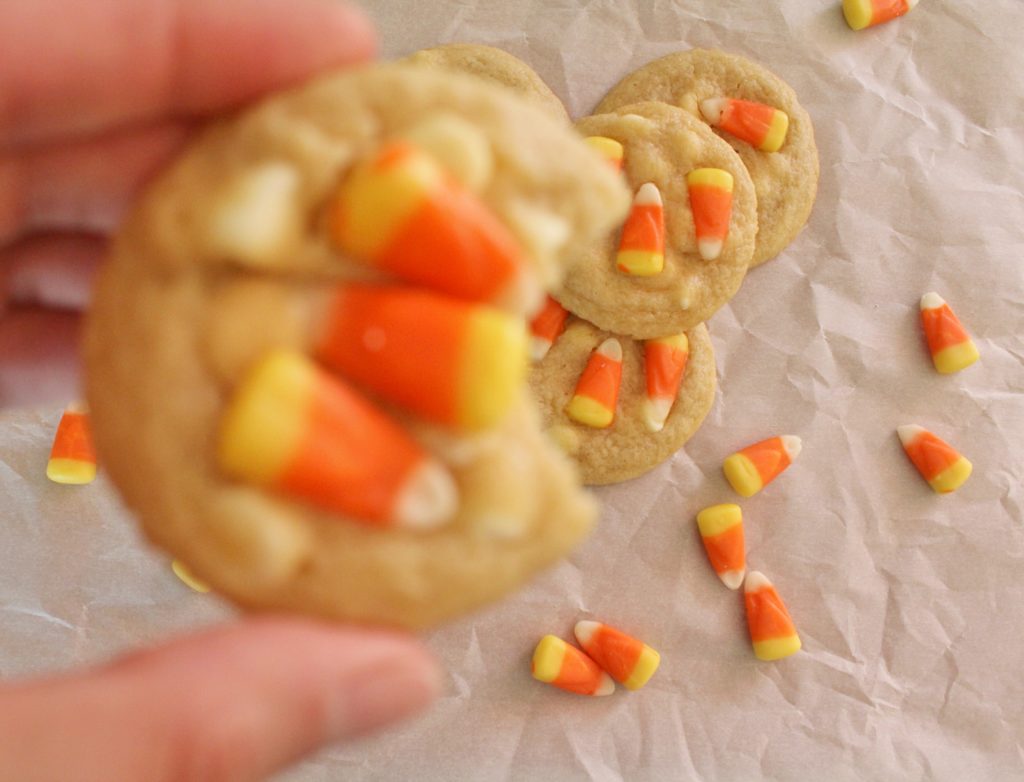 I made these cookies several times before I got them right. The first time I made them I thought I could add the candy corn into the dough with the chocolate chips. Boy was I wrong. That left me with oddly shaped cookies and candy corn melted all over the cookie sheet. #fail.
Then I tried adding candy corn to the top of the cookies as soon as they came out of the oven. While this was closer to what I was looking for than the melted candy corn, it seemed too easy to be an actual recipe.
After a fail and a non-recipe, I began to wonder what would happen if you added the candy corn to the top of the cookies after they baked for half the time?
And that's when the magic happened.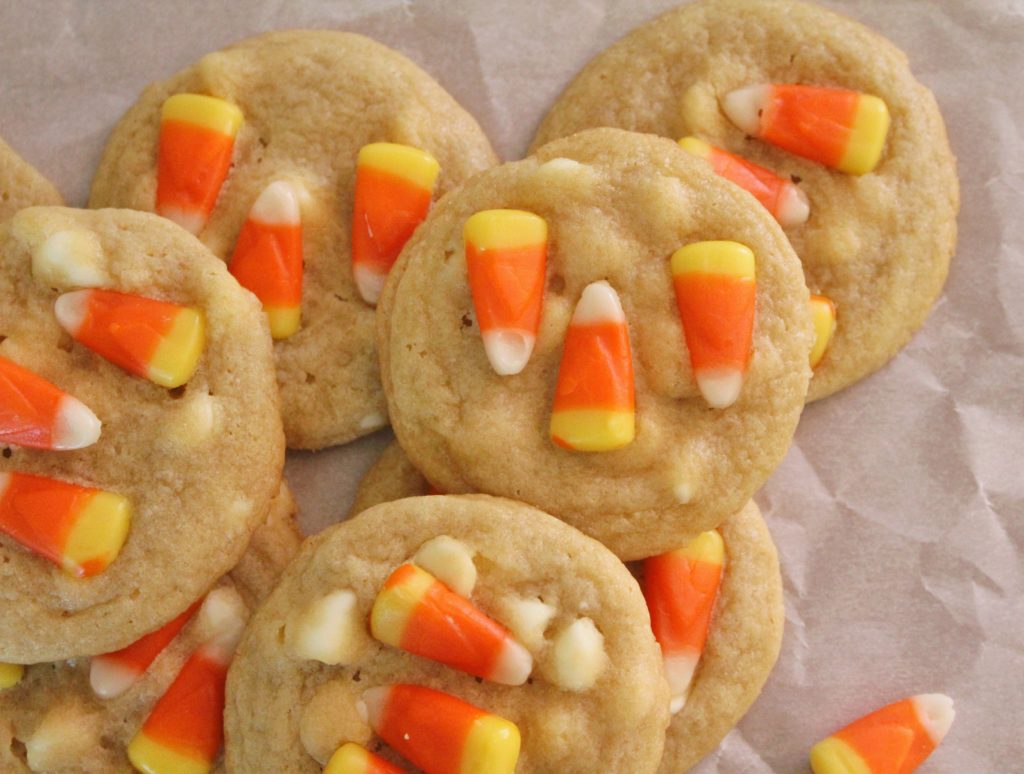 These cookies need to bake for 10 minutes, but you are going to take them out of the oven after 5 minutes and top with 2-3 candy corn pieces, return the cookies to the oven and bake for an additional 5-6 minutes. The cookies are done when they are barely browned on the bottom.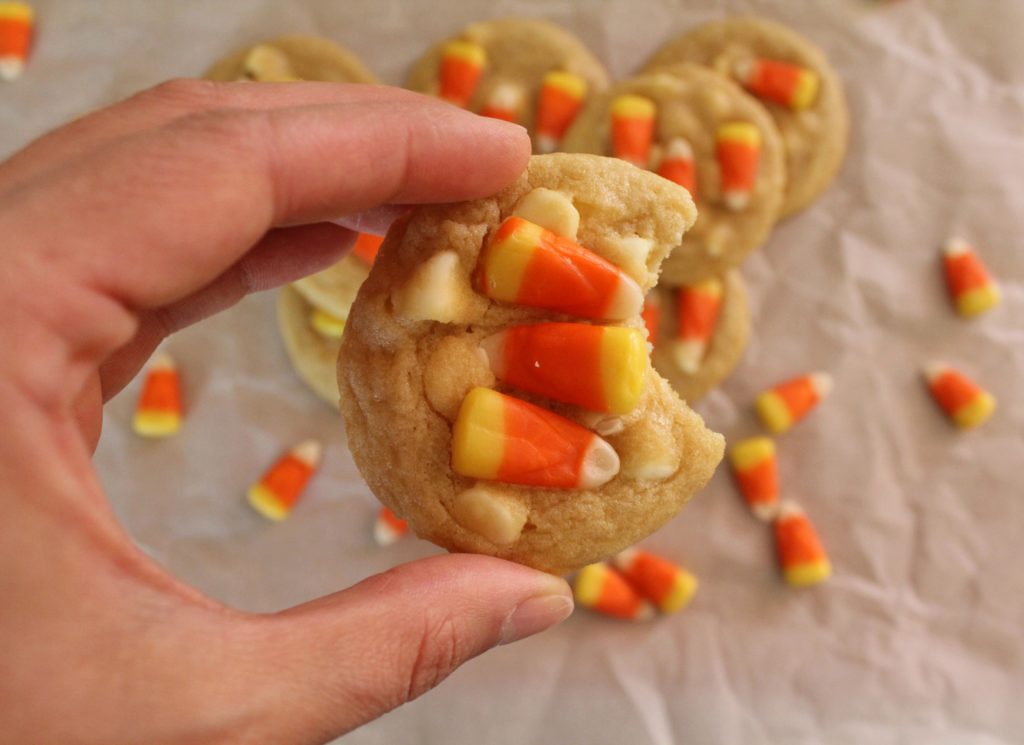 Go grab a bag of candy corn and try these cookies!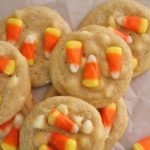 Candy Corn Cookies
Ingredients
3/4

cup

unsalted butter

-

softened to room temperature

1/2

cup

packed brown sugar

1/2

cup

granulated sugar

1

large egg

-

at room temperature

1

teaspoon

vanilla extract

2

cups

+ 2 tablespoons all-purpose flour

1

teaspoon

cornstarch

1

teaspoon

baking soda

1/2

teaspoon

salt

1

cup

white chocolate chips
Instructions
In a large bowl with a hand mixer or in the bowl of a stand mixer, cream butter, brown sugar, and sugar until light and fluffy. Add the vanilla and egg and mix until combined.

In a separate bowl, combine the flour, cornstarch, baking soda, and salt. Add the flour mixture to the butter mixture and mix until combined. Stir in the chocolate chips. Cover the cookie dough and refrigerate until firm, 1-2 hours or overnight.

Preheat oven to 350 and line a large cookie sheet with parchment paper or a silicone baking mat.


Using a medium cookie scoop, drop rounded balls of cookie dough onto the baking sheet. Bake for 5 minutes. Remove half baked cookies from the oven and press 2-3 candy corn into the top of each cookie. Return cookies to the oven and bake for another 5 minutes. Cookies will look slightly underdone and puffy.


Let the cookies sit for about 5 minutes until they setup, before moving to a cooling rack.

Notes
These cookies come out of the oven puffy, which is why it's so important to let them rest for 5 minutes before moving them to the cooling rack.