One of the recipes I've wanted to have in my back pocket is the perfect cinnamon roll. Not just any cinnamon rolls, I wanted people to start drooling when they heard that Sam is making her cinnamon rolls.
In my quest to find these Perfect Cinnamon Rolls I've tried LOTS of different recipes over the years. One hour recipes, over-night recipes, recipes that make only 8 rolls, and even recipes that make 8 pans of rolls! Some of them were delicious and others sadly were a little disappointing.
But even after trying all of those recipes I was still looking for the cinnamon rolls that I could call mine.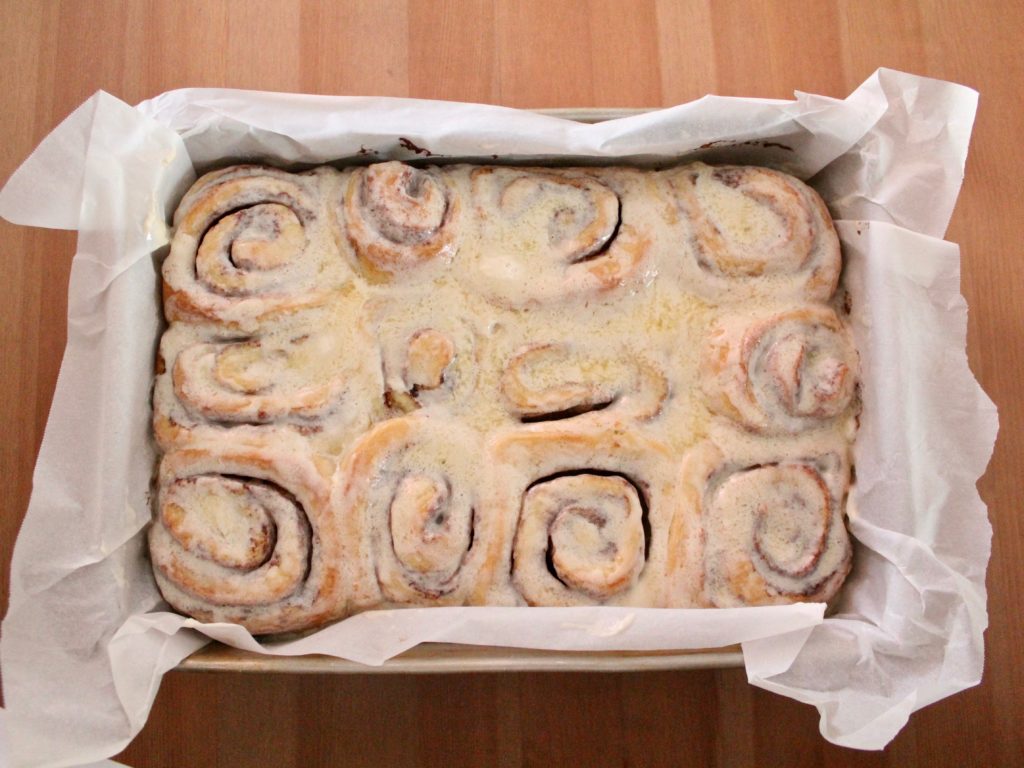 But today I have an announcement…
I have found my new favorite cinnamon rolls!
I got the BraveTart: Iconic American Desserts cookbook for Christmas from one of my siblings and when I saw this recipe I knew it had to be the first one I tried! If you haven't seen this cookbook, it has so many interesting recipes and I'd recommend you check it out! The Glossy Fudge Brownies and No-Knead English Muffins are next on my list to try.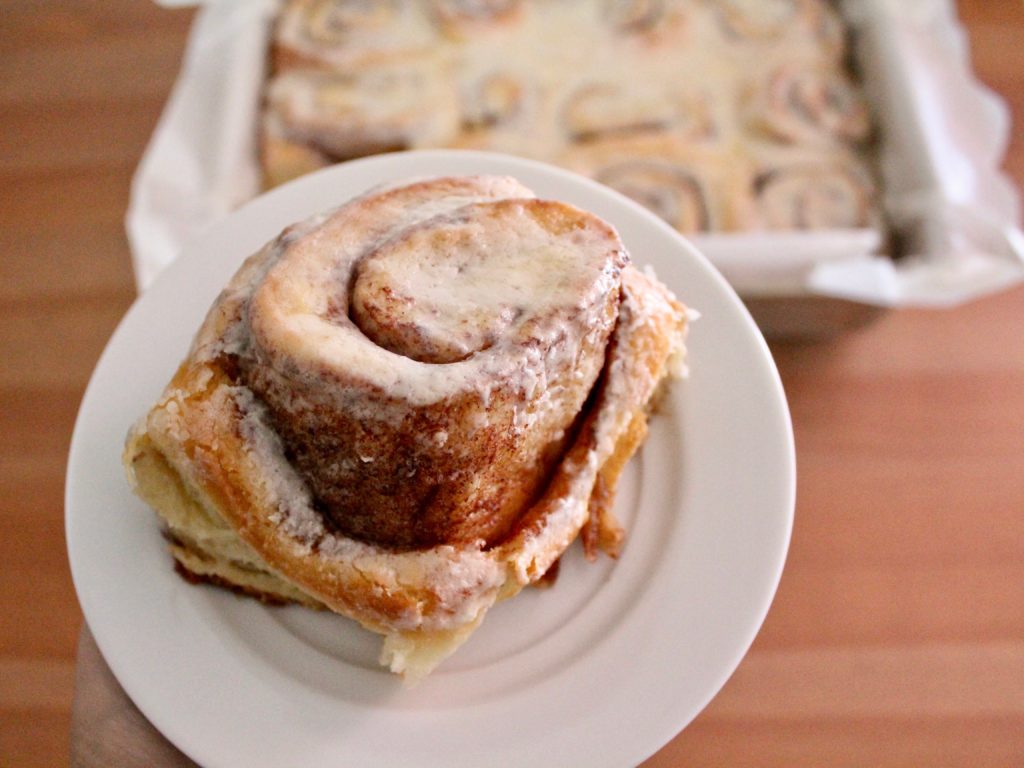 THESE CINNAMONS ROLLS ARE AMAZING!
Sorry for yelling at you, but I'm just that excited for these cinnamon rolls.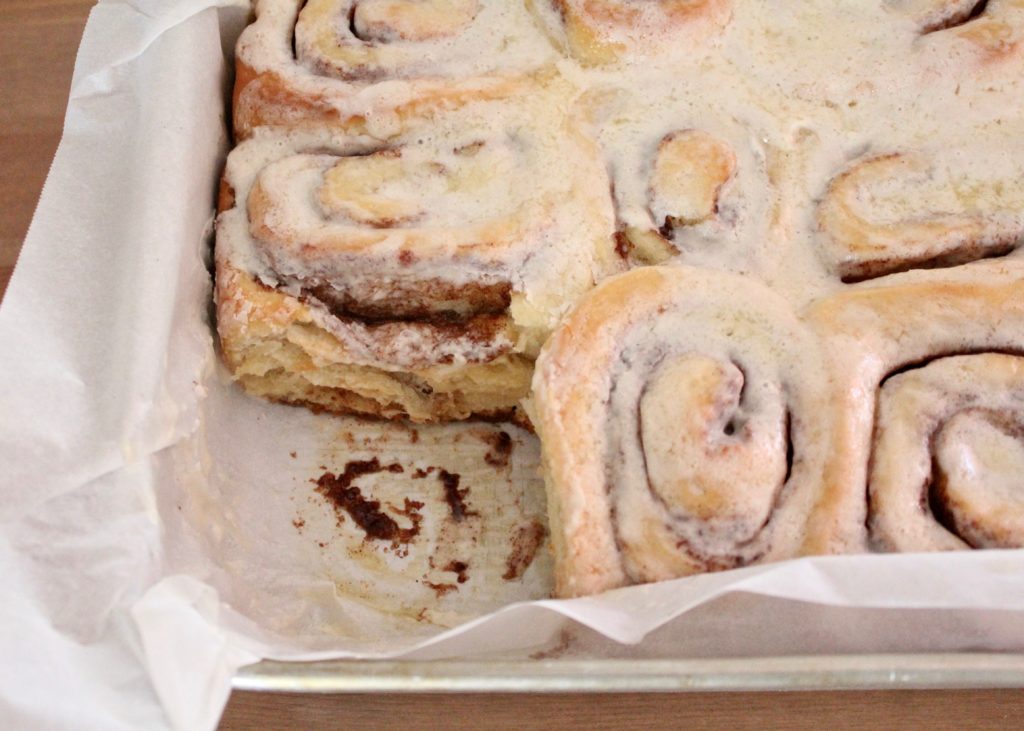 They taste like ones you would find at a fancy bakery and are a fabulous combo of melt in your mouth rolls smothered in a stunningly sweet frosting.
While most of the recipes I've tried call for spreading softened butter across the dough and then sprinkling with cinnamon and sugar, this recipe starts with making a cinnamon filling for the rolls.
A fluffy butter, brown sugar and lots of cinnamon filling. It's game-changing.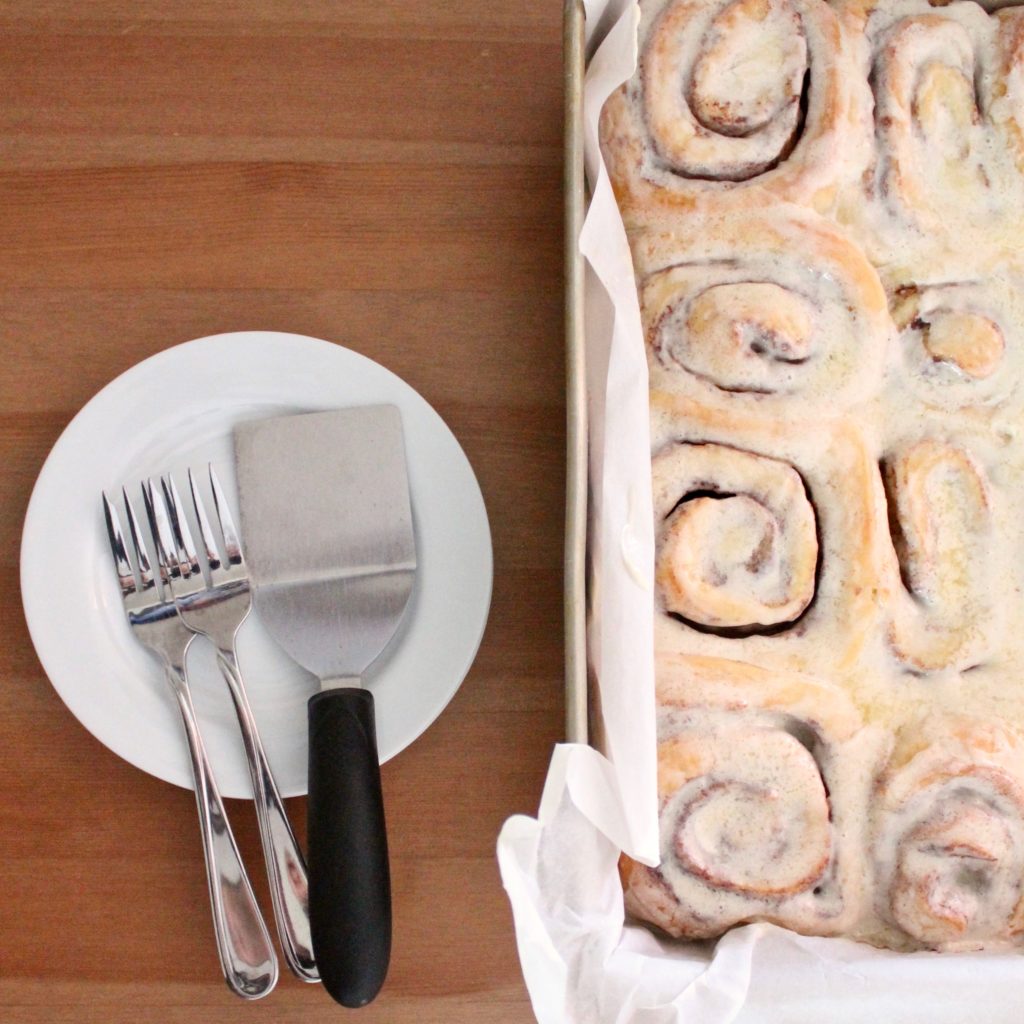 The dough starts with your basic dry ingredients, flour, sugar, and yeast. But the magic that makes these rolls so incredibly soft is in the wet ingredients. The wet ingredients are made up of butter, milk, and Greek yogurt. When I first read the recipe, I was a little surprised at the Greek yogurt, but now I'm convinced it's the secret ingredient.
Simple ingredients combined to make the Perfect Cinnamon Rolls.
Since we are dealing with yeast we have to make time for the dough to rise. These rolls need to rise twice:
At room temperature for 90 minutes.
Form into rolls and let rise in the refrigerator for 8-12 hours.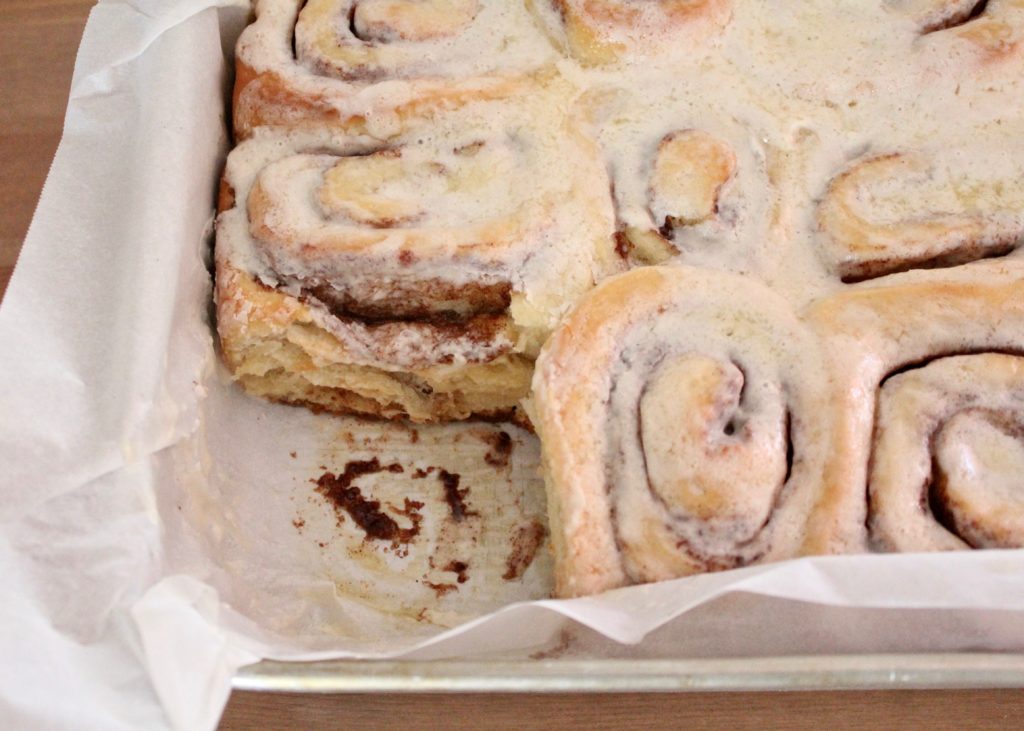 A few more thoughts on the rolls:
Use thread to cut the dough into rolls – I had never tried this before and I was surprised at how clean it cut the rolls and how none of the filling squished out! #winning
I always plan for the second rise to happen overnight.
While the rolls are baking you have time to whip up a simple buttercream frosting that will melt right into the rolls.
Whew, we made it!  Don't be overwhelmed by the long description. These rolls really are pretty simple and the end result is definitely worth it!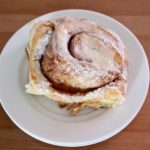 Perfect Cinnamon Rolls
These rolls taste like ones you would find at a fancy bakery and are a fabulous combo of melt in your mouth rolls smothered in a stunningly sweet frosting.
Ingredients
Cinnamon Filling:
1/2

cup

unsalted butter

-

softened to room temperature

3/4

cup

brown sugar

2

tablespoons

ground cinnamon

1/4

teaspoon

salt

-

leave out if using salted butter
Dough:
3 1/2 - 3 3/4

cups

all-purpose flour

1/2

cup

sugar

2

teaspoons

instant yeast

1 3/4

teaspoons

salt

1/4

teaspoon

baking soda

1/2

cup

unsalted butter

1/2

cup

milk

1

cup

plain Greek yogurt
Frosting:
1/2

cup

unsalted butter

-

softened to room temperature

2

teaspoons

vanilla

1 1/4

cups

powdered sugar
Instructions
Cinnamon Filling:
In the bowl of a stand mixer combine the butter, brown sugar, cinnamon, and salt. Once combined beat on medium speed until light and creamy. Put cinnamon filling into a zip top bag and set aside. Wipe out the mixing bowl with a paper towel.
Dough:
To the mixing bowl add flour, sugar, yeast, salt, and baking soda until combined.

In a saucepan over low heat, melt butter, then stir in milk and Greek yogurt until warm, about 80 degrees.

Add butter mixture to flour and mix until mostly combined.

Turn mixer to low speed and knead about 20 minutes, the dough will be smooth and elastic.

Cover the bowl with plastic wrap and let rest 90 minutes, or until doubled in size. Line a 9x13 pan with parchment paper and set aside.

On a floured surface, roll the dough into a 13-inch square. Cut off a corner of the bag of cinnamon filling and squeeze over the dough. Spread into an even layer and roll into a log.

Slice the log into 12 rolls, by cutting the roll in half and then each half into 6 slices. Add cinnamon rolls to pan, cover and refrigerate overnight.

Preheat oven to 350 while the cinnamon rolls sit at room temperature.

Bake rolls covered for about 45 minutes, rolls will be puffed. Remove the foil and bake for an additional 15 minutes, rolls will be lightly browned.
Frosting:
While rolls are baking, in the bowl of the stand mixer, combine butter, vanilla, and half of the powdered sugar on low speed. Add the remaining powdered sugar and mix until combined. Increase speed to medium and beat about 3 minutes, or until light and fluffy.

After removing rolls from the oven let sit for about 5 minutes and then spread the fluffy frosting over them and enjoy!
Notes
While your mixer is kneading the dough, don't get too far away as your mixer can move across the counter and you do not want it to fall off!
Adapted from the BraveTart Cookbook.