I love Greek food! There may not by anything about this recipe that is actually authentic greek food, but that doesn't keep it from being delicious. The flavors in this meal are so good! There is a little Greek restaurant here in our town and their food is amazing! It isn't Mr. Sam's favorite, but he's taken me there for my birthday because he's awesome like that. 🙂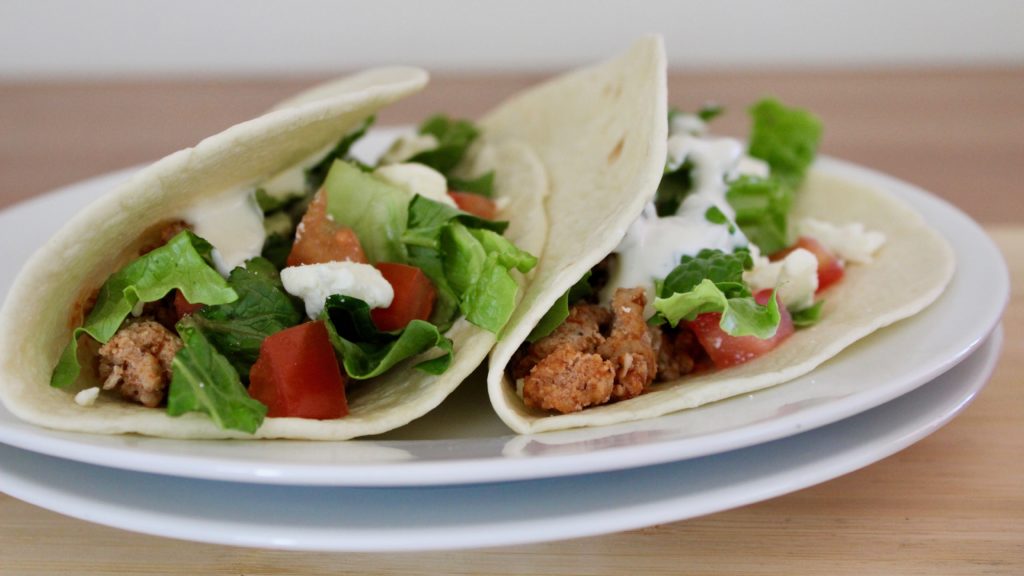 Ok, back to the recipe. I love that these Ground Turkey Greek Tacos are ready in 30 minutes, because while I'm probably part of a dying breed of people who actually doesn't mind spending time preparing dinner, it's not feasible most days because of life and work and other responsibilities. I'm sure I'm not talking about anything that you aren't facing as well. So having quick, simple, healthy, and delicious weeknight meals like this one in our back pocket can help us get dinner on the table.
We're going to start with cooking the meat with basic spices; salt, pepper, onion, and garlic. Then once the meat is cooked we are adding the special ingredients, tomato paste and oregano. See, no crazy ingredients here. I love that this meal is lighter because of the ground turkey but still so flavorful.
Now let's talk about how to serve the delicious meat that you just made. You could pick up some pitas at the store or make your own. If you make homemade pitas and love them, help a girl out and share the recipe. I went with a more traditional taco and used my favorite flour tortillas.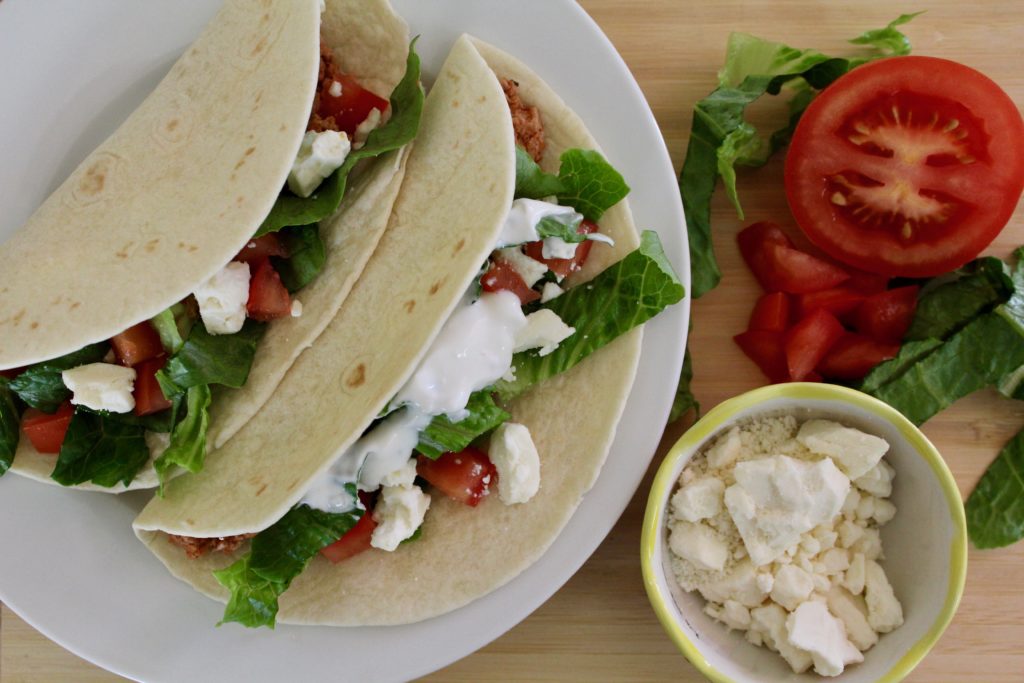 These tacos are delicious topped with feta and shredded lettuce, but the real star of the show is the Tzatziki sauce. Ahh. The Tzatziki sauce. Now, I love tzatziki sauce and making it homemade isn't difficult. But no judgement if you pick some up at your local grocery store (it's what I used), that's another way we keep this a quick and simple meal. Tzatziki makes the tacos so please. please. please. Don't skip it!
Enjoy!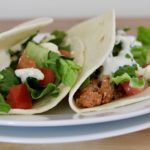 Ground Turkey Greek Tacos
Ingredients
1

pound

ground turkey

1/2

teaspoon

salt

1/2

teaspoon

pepper

1/8

cup

onion

-

minced

1-2

cloves

garlic

-

minced

1

teaspoons

dried oregano

2

tablespoons

tomato paste

1/4

cup

chicken broth
Instructions
In a large nonstick skillet, cook the ground turkey over medium heat with the salt, pepper, onion, and garlic until meat is cooked through, about 10 minutes.

Drain any grease (I didn't have any) and stir in the oregano and tomato paste until combined (it will be very thick). Stir in the broth and simmer until the broth is mostly evaporated, about 5-10 minutes.

Serve with warm pita bread or tortillas, feta cheese, shredded lettuce, and tzatziki sauce.