---
I have not been immune to feeling the weight of anxiety the last few weeks and honestly, that's one of the reasons I haven't posted much, it all felt so trivial when we are all trying to just survive. Mr. Sam and I are completing our 3rd week of full-time working from home. We are in a fortunate situation where our company was set up well for working remotely and I realize this is not the case for a lot of people. Aside from work, the rest of life looks a little different. We aren't leaving the house much and we aren't getting together with friends and family in person, but we're staying connected with texts, phone calls, and virtual church meetings. 
I'm working on a couple of simple, delicious, and customizable meals to share with you because we need options right now.   Staples (like bread, flour, yeast, and eggs) aren't readily available at the grocery store and don't even get me started on the toilet paper hoarding. A couple of things I've found that has helped with my overall anxiety is getting ready each morning, getting outside of the house for a walk, and doing as many "normal" things as possible, like eating dinner at the table with my husband each evening. What is helping you during this uncertain time? Stay safe and healthy friends.

Coffee & Dish – March 2020
#1 New Recipes
No new recipes this month.
#2 Recipes I tried this month
One of my goals for 2020 was to try a new recipe each week to equal at least 52 new recipes for the year and I'm tracking them on this Pinterest board if you want to follow along. Each month I'm going to do a recap and give each recipe a rating out of 5.
I tried 10 new recipes in March! Apparently I have been managing stress by cooking and baking a lot these last few weeks.
Instant Pot Creamy Garlic Parmesan Chicken Pasta – 5/5 – I made this recipe twice this month. Bonus, the leftovers reheat very well!
Pros: Simple and full of flavor comfort food.
Cons: It's not exactly healthy.
Make again: YES!
Healthy Egg and Veggie Muffins – 5/5 – I made 3 batches of these in March!
Pros: Healthy and customizable. I used ham, cheddar, and spinach.
Cons: None
Make again: YES!
Honey Mustard Chicken Thighs – 3/5
Pros: Lots of flavor and tender.
Cons: The bacon didn't get very crispy.
Make again: No
Quick and Easy Mediterranean Orzo Skillet – 5+/5 – I used diced chicken breasts and skipped the tomatoes to make it more our taste. Bonus, the leftovers reheat very well!
Pros: Quick, healthy, and packed with flavor
Cons: You have to dirty 2 pans (that's all I could come up with)
Make again: YES!
Simple Skillet Green Beans – 4/5 – I wasn't able to find frozen vegetables at the grocery store this month, but I could get fresh green beans.
Pros: Only 5 ingredients
Cons: Easy to overcook
Make again: Yes
Homemade Bagels Recipe – 5/5
Pros: Delicious and chewy bagels!
Cons: They take 3ish hours and have so many steps
Make again: YES!
Banana Muffins – 4.5/5
Pros: Makes 24 tender muffins
Cons: You need a lot of bananas.
Make again: Yes
3 Cheese Quiche (from the Magnolia Table cookbook) – 3.5/5
Pros: It's easy and I feel so fancy making quiche.
Cons: The seasoning seemed off, too much garlic.
Make again: Probably
Brookie Pie – 3.5/5
Pros: Brownies + Cookies = YUM!
Cons: This pie is thick and it needs to cook for a while so plan ahead.
Make again: YES!
Chocolate Chip Cookies (from the Magnolia Table cookbook) – 4/5
Pros: These are all brown sugar cookies that are very chewy.
Cons: They spread more on the pan than I like, next time I'll chill the dough for 30 minutes before baking.
Make again: YES!
#3 Favorite Things
My favorite Simplified planners released their new covers for the year! The academic year planners launched this week, but the calendar year planner (which is what I use) comes out in September.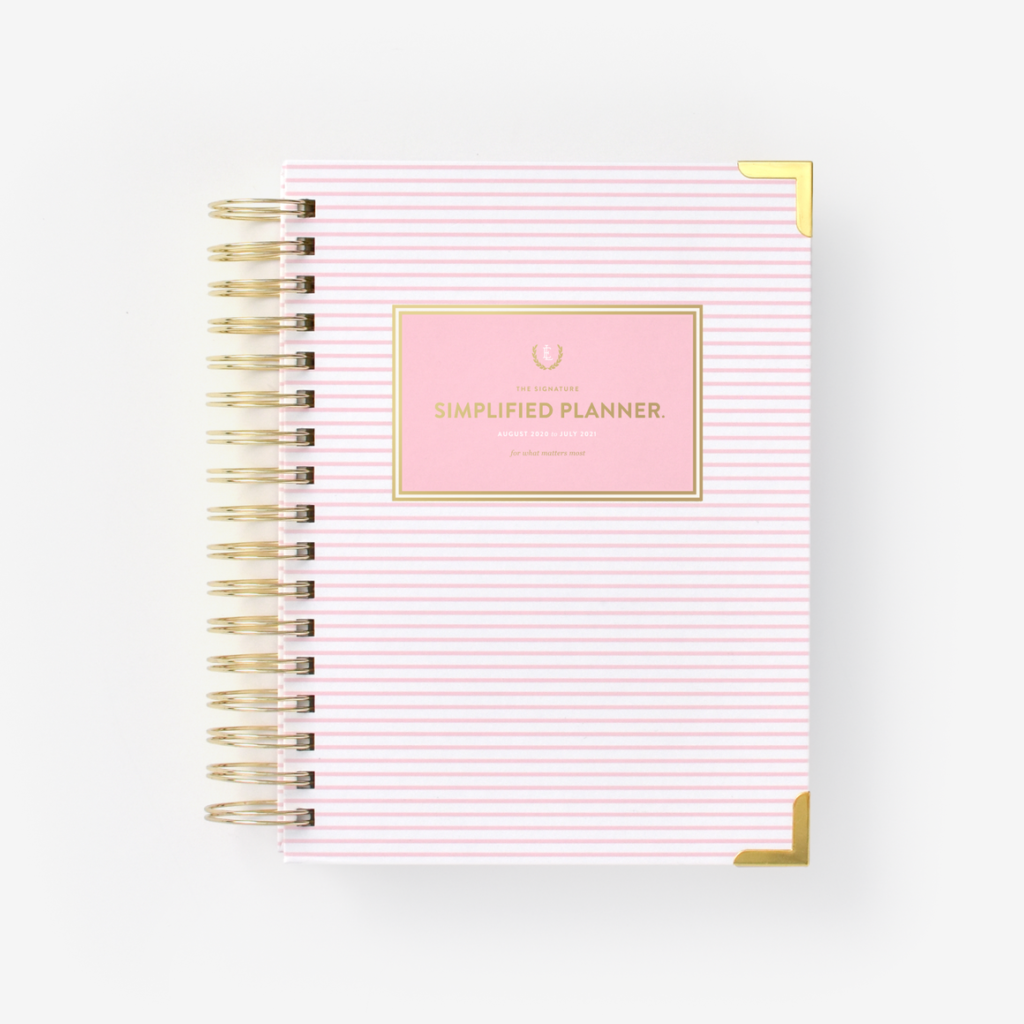 This is the Pink Pinstripe cover and how cute is it!  Go check out the Simplified shop!
-Sam
---
Do you follow Sam's Dish on social media? I post new recipes, updates, and sneak peeks!