I've been on the search for a great Beef and Broccoli recipe for a couple years. I've tried several slow cooker versions and the best way to describe them was mushy, bland, and overall not impressive. Then I came across this recipe that is made in a skillet in less than 30 minutes and it quickly became one of my husband's favorite recipes! Boom! Don't Y'all love it when that happens.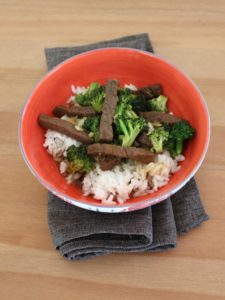 This recipe starts out with marinating flank steak in soy sauce, there is probably some science behind marinating beef in soy sauce, but I don't know what it is. Because flank steak can be tough, make sure you slice the beef against the grain and do not overcook it the first time it's in the pan, because the beef will continue cooking at the end. The marinade only has to set for 10 minutes, so go ahead and prep the sauce and the broccoli. Now the broccoli is supposed to be cut into bite-sized pieces, I typically go on the smaller side of bite-sized because you want to keep the cooking time short and I like my broccoli cooked mostly through with just a little bit of a bite to it. Now that the steak is marinating and the broccoli is prepped it's time to whip up the sauce.
I have only made this dish with low sodium chicken broth and low sodium soy sauce and it isn't overly salty, but be careful if you don't choose low sodium options. I love the rich nutty flavor that the sesame oil brings to the dish, so please don't skip it! But if you don't have rice vinegar, I would probably substitute apple cider vinegar. I always use light brown sugar in this recipe and while it can be customized to the amount of sweetness you like, I wouldn't omit it completely because it adds a nice flavor to the sauce. I haven't tried subbing the brown sugar, but honey might be a good option. I also love using fresh garlic in my recipes, but you could sub 1/2 teaspoon garlic powder if you don't have fresh garlic available. Also, I think fresh ginger would be delicious in this recipe.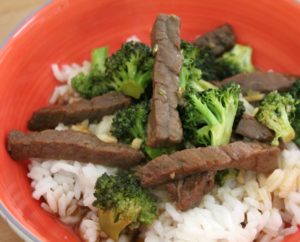 I have a sauté pan like this one that I love and it works great for this recipe.
Did you notice that the recipe looks a little different? I'm trying to make it easier for you to save and print. Yay! I'm working to get all of the old recipes updated to the new format in the next couple months.
Beef and Broccoli
Ingredients
Sauce:
1

tablespoon

rice vinegar

2

tablespoons

low-sodium chicken broth

5

tablespoons

low-sodium soy sauce

3

tablespoons

light brown sugar

1

teaspoon

sesame oil

2

teaspoons

cornstarch
Beef and Broccoli:
4-5

tablespoons

soy sauce

1 1/2

pounds

flank steak

-

cut into strips against the grain

2-3

cloves

garlic

-

minced

1/4

teaspoon

ground ginger

1

teaspoon

vegetable oil

-

plus extra for cooking

6

cups

fresh broccoli florets

-

cut into bite-sized pieces

1/3

cup

water
Instructions
Combine beef and soy sauce in a shallow pan, cover and refrigerate for 10 minutes to 1 hour.

While beef is marinating, in a small bowl, whisk together the rice vinegar, chicken broth, soy sauce, brown sugar, sesame oil and cornstarch, set aside. In another small bowl combine the garlic, ginger and 1 teaspoon vegetable oil, set aside.


In a large nonstick skillet, heat 2 teaspoons of oil over medium-high heat. And about half of the beef to the skillet in an even layer and cook for 1 minute before stirring, then stir and cook until beef is browned and barely cooked through. Transfer beef to a bowl and cover with foil. Heat another 2 teaspoons of oil in the skillet and cook the remaining beef like above and transfer to a bowl and cover with foil.


Add 1 tablespoon of oil to the skillet over medium-high heat and once hot, add broccoli and cook for 30-45 seconds. Add water and cover pan, cook broccoli about 2 minutes or until almost tender. Push broccoli out of the center of the pan and add the garlic, ginger and oil to the center of the skillet and cook, smashing with a spoon, for about 30 seconds until fragrant. Add the beef back to the skillet and stir to combine. Pour sauce over everything and cook until the sauce is thickened, about 2-5 minutes.


Serve over rice.

Recipe is slightly modified from this recipe on Mel's site.