Vanilla Lattes are my current coffee obsession and since I've started making them at home I can avoid the expensive coffee shop and all of the calories that come with it! I don't usually share photos of all the ingredients for a recipe, so today is your special day.
I bought a milk frother a couple months ago and it is amazing! I like to add the sugar and vanilla to the milk before warming it for about 30 seconds in the microwave and then use the frother to transform the milk into warm frothy goodness.
The hubby bought me a Keurig for Christmas a couple years ago and I love that I can have freshly brewed coffee in just a couple minutes. While I love the convenience of the Keurig I don't love how ridiculously expensive the k-cups are. So at home, I switched to a reusable cup. I buy bags of coffee at the grocery and refill the cup when I'm ready to brew. I do lose a few seconds of convenience, but the savings is totally worth it to me. I have this reusable cup, but there are lots of options out there. Another benefit of the reusable cup is that it allows me to add a little cinnamon to the grounds before brewing. Have you ever tried adding cinnamon to your coffee? I introduced my sisters to it a couple weeks ago and they agreed that adds amazing flavor without extra calories!
Let's take a second to talk about my coffee canister. I love it! Last summer I turned a corner of my kitchen counter into a little coffee area and I knew I wanted a cute canister to store my coffee in. I bought mine at Marshalls, but here are some other cute options I found: here, here and here.
Do you love coffee? Have you tried to recreate a coffee shop drink at home? I'd love to hear from you in the comments below!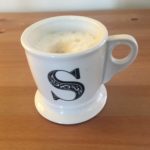 Vanilla Latte
Have you tried to recreate a coffee shop drink at home?
Ingredients
1/4

cup

milk

Sugar to taste

1/8

teaspoon

vanilla

1/4

teaspoon

cinnamon

6

ounces

brewed coffee
Instructions
Mix milk, sugar, and vanilla together in a microwave-safe mug for about 30 seconds. Whisk or use a frother until the milk is frothy, about 30 - 60 seconds.

Brew coffee to your desired strength, I add a little bit of cinnamon to the grounds before brewing.

Pour brewed coffee over frothed milk and enjoy.