There's just something about frosted brownies when they are cold that has always had a special place in my heart. I've made these brownies twice over the last two weeks and both times they were consumed by very happy people. The only criticism they received was that they were too chocolatey. So if chocolate filled with chocolate and then covered in chocolate isn't your thing, then please just leave these brownies for the rest of us. If you are one of those people, I feel sorry for you, I really do.
You have to be careful when baking brownies that you don't overbake because they will dry out. I like my brownies to be fudgey, so I adjusted the cook time for them by just a couple minutes. Since each oven is different, set the timer a few minutes shy of what I suggested and start testing every 2-3 minutes to find out when they are done to your liking.
These brownies get their chocolate from an unsweetened chocolate bar and semi-sweet chocolate chips. My favorite bars and chips to use are the Ghirardelli brand. Good quality chocolate is a must.
Now about the frosting, please make sure your cream cheese and butter are softened to room temperature. If they are too cold you will have lumps in your frosting. Now, this won't negatively impact the taste, but it will mess with the creamy texture.
Are you a frosted brownie person? Do you like your brownies cold or do you like them warm and served with ice cream?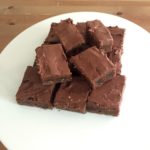 Double Chocolate Brownies with Cream Cheese Frosting
I love these brownies chilled, so I store them in the refrigerator. But they are also delicious when they are room temperature and the frosting is creamy.
Ingredients
Brownies:
1/2

cup

butter

3

ounces

unsweetened chocolate chopped

1/2

cup

granulated sugar

1/2

cup

light brown sugar

2

large eggs

1

teaspoon

vanilla extract

1/2

cup

semisweet chocolate chips

3/4

cup

all-purpose flour

1

teaspoon

baking powder

1/4

teaspoon

salt
Frosting:
4

ounces

cream cheese

-

softened to room temperature

3

tablespoons

unsalted butter

-

softened to room temperature

1

cup

powdered sugar

1/4

cup

cocoa powder
Instructions
Preheat oven to 350. Line an 8-inch-square baking dish with foil, letting the excess hang over the edges Lightly grease the foil and set aside.

Place the chocolate and butter in a medium microwave-safe bowl and microwave for 30-second increments at 50% power, stirring in between, until the chocolate and butter are melted and smooth.

Whisk in the granulated and brown sugars. Whisk in the eggs and the vanilla extract until combined. Fold in the flour, baking powder and salt with a rubber spatula until combined. Stir in the chocolate chips.

Pour the batter into the prepared pan and bake for 23-25 minutes, until a toothpick inserted in the center comes out clean. Remove the brownies from the oven and allow them to cool completely before frosting.

For the frosting, in the bowl of a stand mixer or in a medium mixing bowl, beat the softened cream cheese and butter until combined. Gradually add powdered sugar and cocoa powder and beat until light and fluffy.

Frost brownies and refrigerate until chilled. Use the foil edges to remove the brownies from the pan before slicing.