Tis the season for baking cookies. Lots and lots of cookies.
It's time for Sam's Christmas Treats year two! I am very excited about the recipes I have to share with you this year. Today is recipe #1 and it's inspired by one of our favorite candy bars.
These cookies start with a soft and buttery shortbread cookie that has a puddle of creamy caramel and is topped with milk chocolate.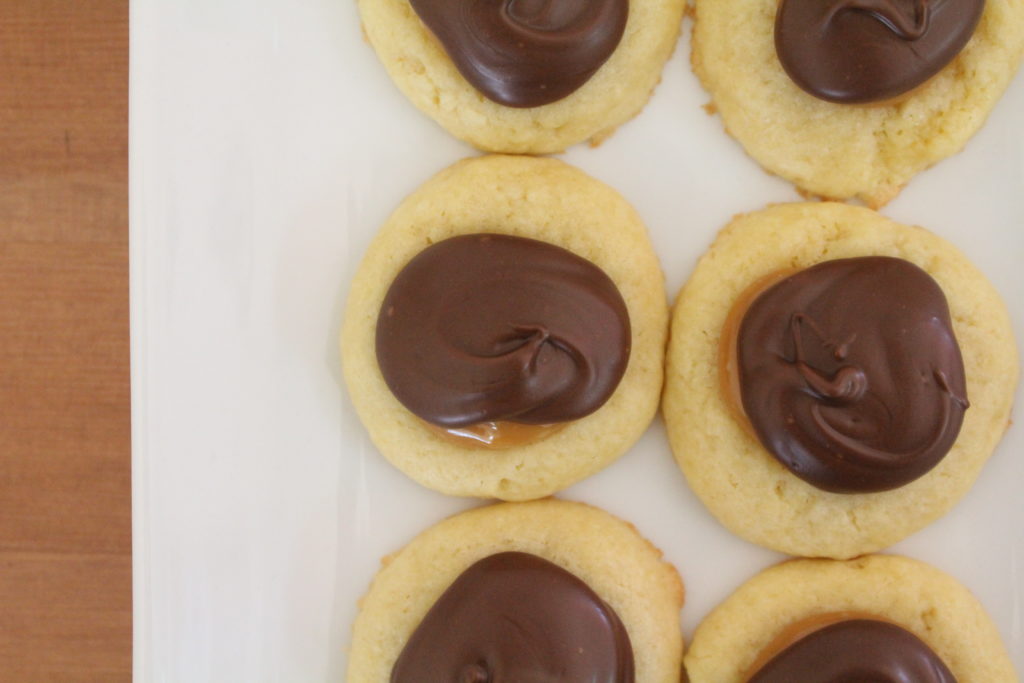 The cookie is made from six ingredients that should already be in your kitchen. I know just using the egg yolks sounds wasteful, but don't throw out the whites, save them for your next omelet.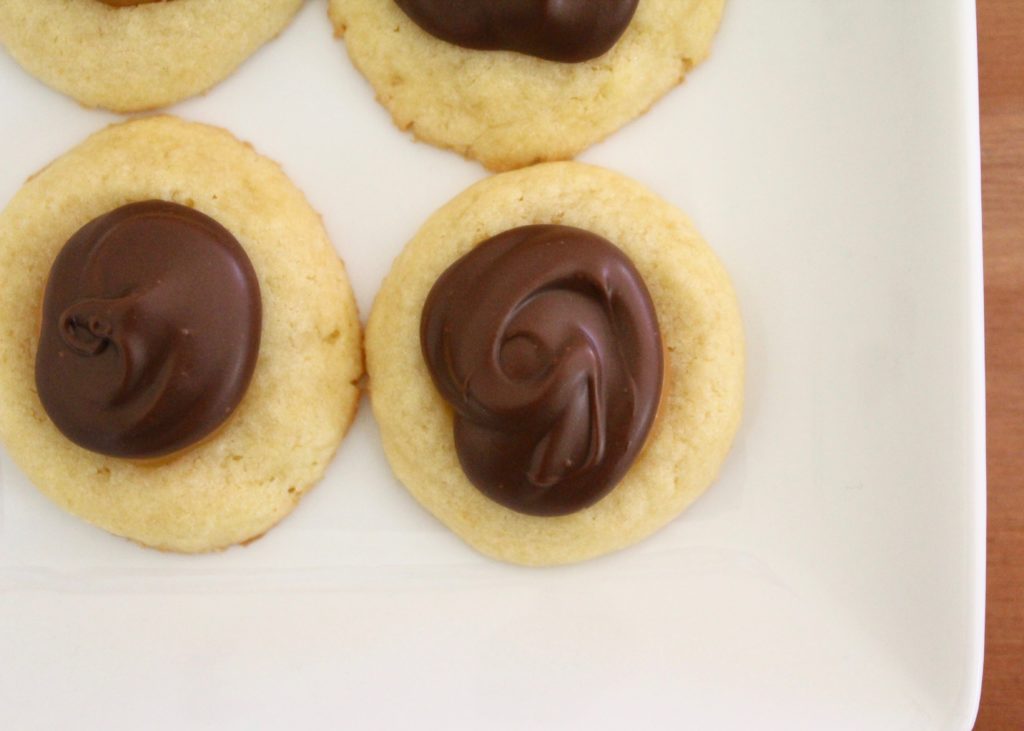 These cookies are bite sized and the only problem I've found with a bite sized cookie is that it's too easy to just keep eating them.
What is your favorite Christmas cookie?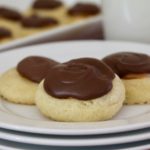 Twix Cookies [Chocolate and Caramel Shortbread Thumbprints]
Ingredients
Cookies:
1

cup

unsalted butter

-

softened

2/3

cup

granulated sugar

3

egg yolks

-

room temperature

1 1/2

teaspoons

vanilla extract

2 1/4

cups

all-purpose flour

1/2

teaspoon

salt
Caramel:
8

ounces

soft caramels

-

about 1 cup melted caramel

1

tablespoon

or so of cream or milk
Chocolate:
6

ounces

milk chocolate wafers for drizzling
Instructions
Cookies:
In a large bowl with a hand mixer or the bowl of a stand mixer, cream butter and sugar until light and fluffy. Add vanilla and egg yolks and mix until combined.

Add the flour and salt and mix until combined, dough may be crumbly.

Line a large cookie sheet with parchment paper or a silicone baking mat, shape dough into balls about 2 teaspoons in size (I use my small cookie scoop) and place close together on the cookie sheet. Make a small well in the center of the cookie (I used my thumb and pressed down about halfway). Refrigerate cookies for at least one hour.

Preheat oven to 375. Split cookies up between several cookie sheets lined with parchment paper or a silicone baking mat. Bake cookies for 9-10 minutes, they should be lightly browned around the edges. If the centers puff up while baking, press them down lightly with the tip of a small spoon. Let the cookies cool completely while you prepare the caramel and chocolate.
Caramel:
Unwrap and melt the caramels with a tablespoon of milk or cream in the microwave on low heat, stirring every 30 seconds. Spoon a dollop of caramel into the center of each cookie.
Chocolate:
Melt the chocolate in the microwave with low heat and spoon a dollop of chocolate over the caramel center of the cookie. Let the cookies cool completely before storing.
Notes
Note: I've tried the Kraft Caramel Bits and found that they don't melt well enough for this recipe, but I've used the wrapped caramels with good success.
Recipe adapted from Mel.