Hi Friends! Do I have a treat for you today. A couple years ago Mr. Sam mentioned that I should try to make a new kind of cookie, an oatmeal cookie combined with a snickerdoodle and I should call it an Oatmadoodle. Fast forward to today and I finally have an Oatmadoodle Cookie recipe to share with you! Yay!
Talking about these cookies today seems exceptionally appropriate since Saturday is Mr. Sam's birthday! I'm baking him the Chocolate Chip Cookie Dough Cheesecake that I posted last year cause it's his favorite. Fun fact: I've baked it for each of his birthdays since we've been married. As an adult, I don't know if there is a better day of the week for your birthday to fall on than Saturday, we're taking the day off from normal Saturday things to just hang out all day!
Now let's talk about the recipe for these Oatmeal Snickerdoodles or Oatmadoodles as they are affectionately called in our house. After lots of trial & error (read: dozens of delicious cookies that were not quite right) I give you today's recipe (oatmeal cookie + snickerdoodle = Oatmadoodle!)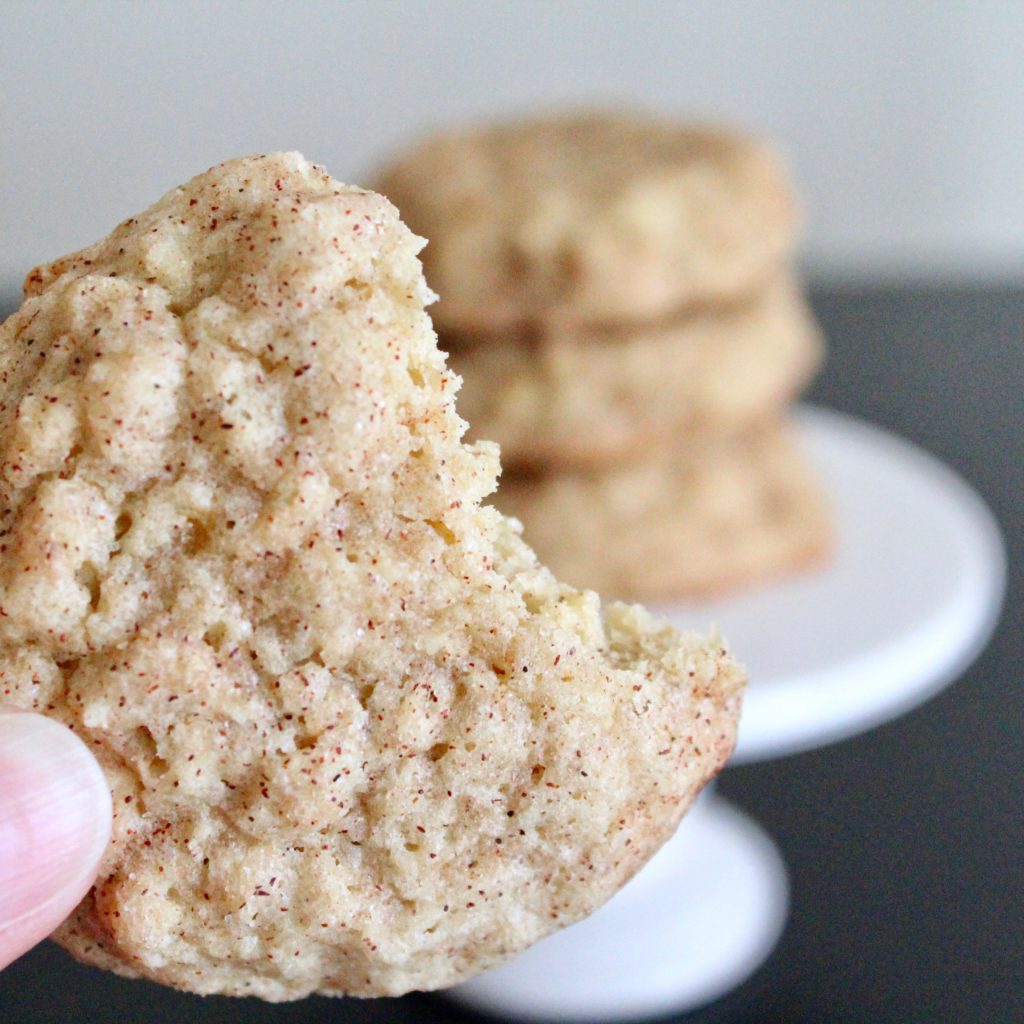 The first time I hit the kitchen to figure out this cookie I went straight to my favorite oatmeal cookies. I left out the raisins and before baking, I rolled them in cinnamon/sugar to give them the look and (hopefully) taste of a snickerdoodle. The finished product was chewy and delicious but the cinnamon/sugar didn't stand a chance next to the hearty oatmeal and they were missing that zing that makes a snickerdoodle cookie a snickerdoodle.
Last week (yes, years later) I realized maybe I was going about this the wrong way. Maybe instead of trying to add snickerdoodle to my oatmeal cookies, I should try to add oatmeal to my snickerdoodle cookies. I took my snickerdoodle cookies, and exchanged some of the sugar for brown sugar (extra moisture) and added oatmeal in place of the chocolate chips. I ended up with a cookie that was fluffy, with just a hint of oatmeal in them and still not what I was going for.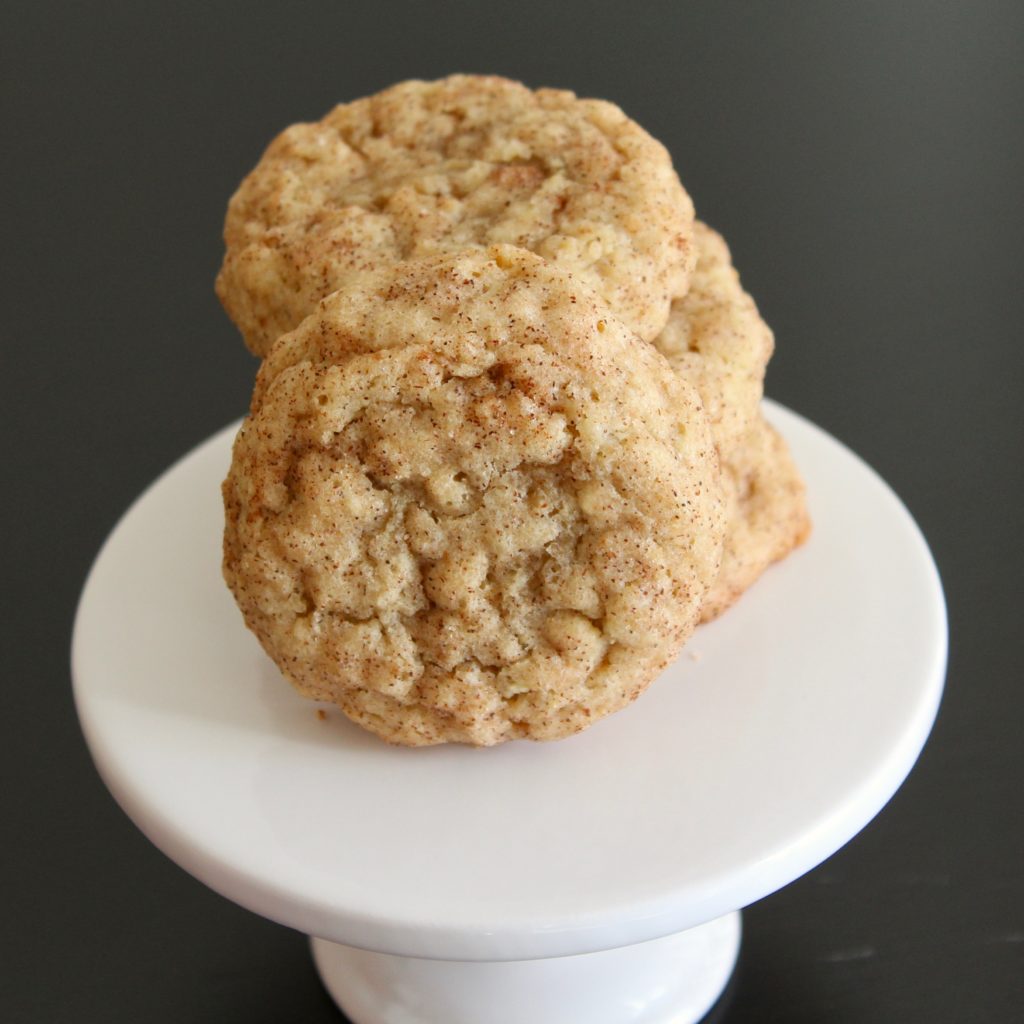 Back to the kitchen I went and I did what I should have done in the first place, I looked at my oatmeal cookie and snickerdoodle cookie recipes side by side. And here is what I found:
oatmeal cookie: 1 3/4 cups flour + 3 cups oatmeal = too much oatmeal, it overpowered everything

modified snickerdoodles: 2 3/4 cups flour + 1 cup oatmeal = barely any oatmeal to be found
I realized that to be able to add more oatmeal to my cookie I needed to decrease the amount of flour and the perfect balance ended up being equal parts flour and oatmeal!
I also used cream of tartar to give the cookies the zing they needed to be snickerdoodles and I added cinnamon because, in my opinion, all good oatmeal cookies have cinnamon in them.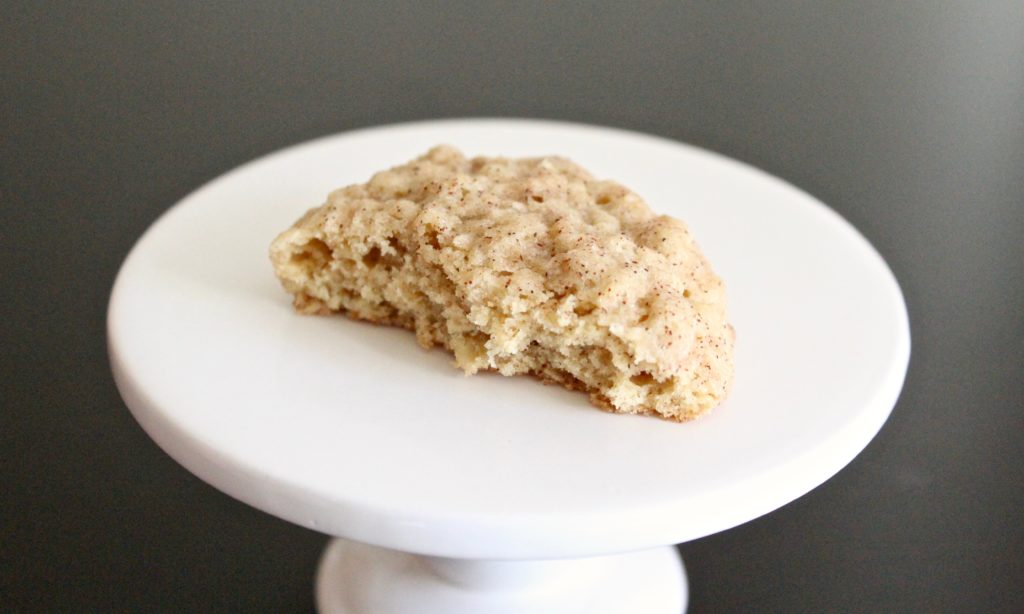 Thanks to Mr. Sam for encouraging me to try these cookies!
Whew, you made it to the end of the post and now it's time for the recipe! Enjoy!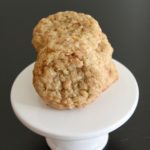 Oatmeal Snickerdoodle Cookies (Oatmadoodle)
Today's recipe is what happens when an oatmeal cookie and a snickerdoodle has a baby!

Ingredients
1

cup

unsalted butter

-

softened to room temperature

1/2

cup

sugar

1/2

cup

brown sugar

2

large eggs

-

room temperature

1/2

teaspoon

vanilla

2

cups

all-purpose flour

2

cup

old-fashioned oats

1

teaspoon

cream of tartar

1/2

teaspoon

baking soda

1/4

teaspoon

salt

1/4

cup

granulated sugar

1

teaspoon

cinnamon
Instructions
Preheat oven to 375. Line a large baking sheet with parchment paper or a silicone baking mat.

In a large mixing bowl or the bowl of a stand mixer, beat together the butter, sugar, and brown sugar until combined. Add eggs and vanilla and beat until light and fluffy, about 1 minute.

In a separate bowl, combine the flour, oatmeal, cream of tartar, baking soda, and salt. Gradually add the flour mixture to the butter mixture and mix until just combined.

Combine 1/4 cup sugar and 1 teaspoon cinnamon in a small bowl. Scoop 1 1/2 tablespoons dough (I use a medium cookie scoop) and roll into a ball. Roll cookie dough balls in cinnamon/sugar mixture and place on baking sheet. Using a glass with a flat bottom, smash the cookies down about 1/2 way.

Bake for 8-10 minutes. Cookies will be lightly browned around the edges and puffy but will fall slightly when you take them out of the oven. Let cool on the baking sheet for 3 minutes before transferring to a cooling rack.