There's something simple and comforting about homemade spaghetti and meatballs. And putting them in the slow cooker makes dinner time a breeze.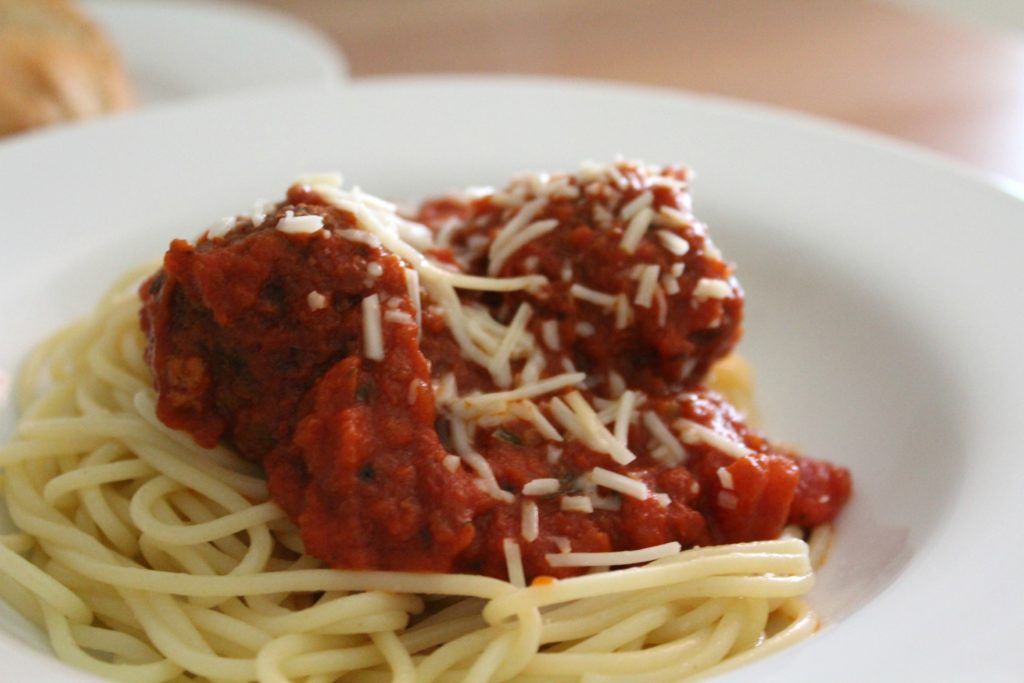 I used 80/20 ground beef the first time I made this recipe and I would not recommend it. Too much fat cooks off in the slow cooker, and I ended up skimming the excess fat off the top. Eww. Eww, just eww. So save yourself the trouble and stick with a lean ground beef. Last time I used a half ground beef and half ground turkey.
You are going to combine all of the ingredients, except the marinara sauce, in a large mixing bowl. Be careful not to overmix, as this will give you dry meatballs.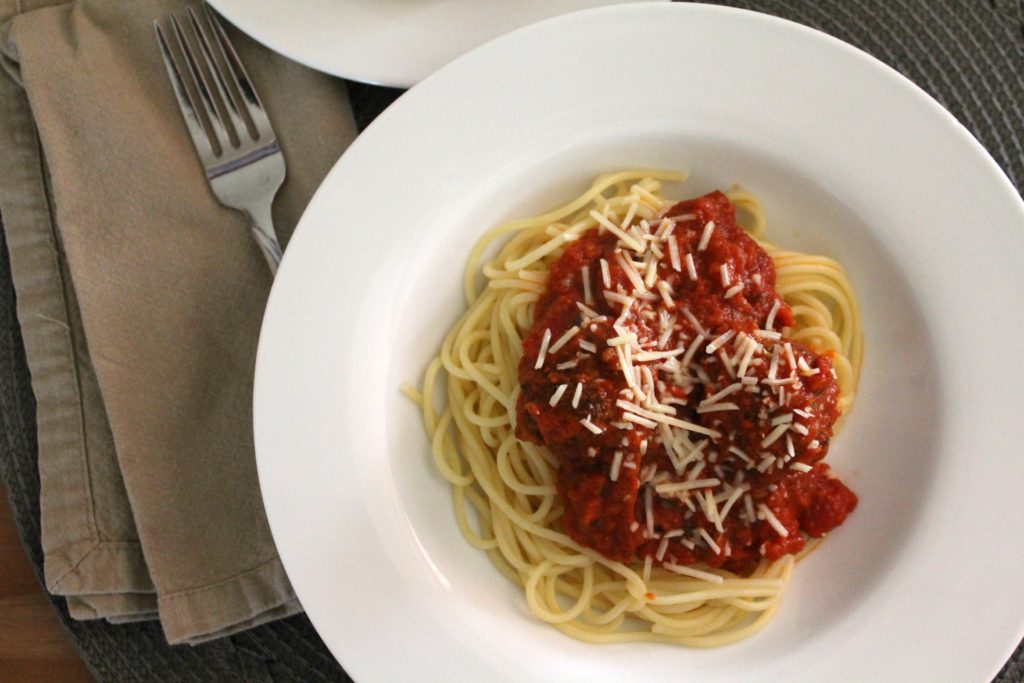 Now to help the meatballs have extra flavor, we're going to brown them in the skillet before cooking them in the slow cooker. I know you're probably thinking the same thing I did the first hundred times I read these instructions in a recipe, "is this really necessary"? But yes, it is absolutely necessary. Please don't skip this step. By partially cooking the meatballs, it helps them keep their shape and gives them a great flavor. The browning step can either be done immediately before adding the meatballs to the slow cooker, or it can also be prepped up to 24 hours before. I like to make the meatballs the night before, brown them, and then refrigerate overnight. Then 6 hours before dinner, I add the meatballs and marinara sauce to the slow cooker and let it do it's magic.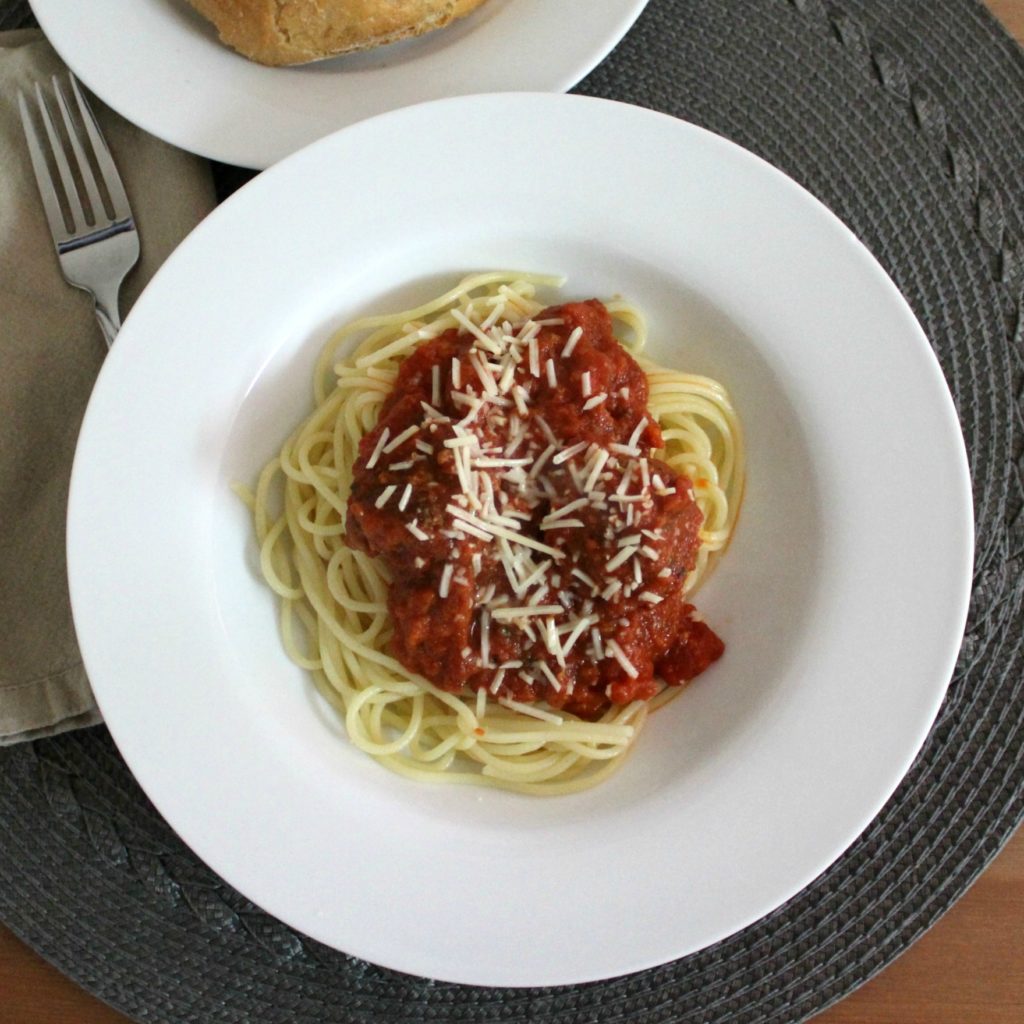 Let's talk about pasta for a minute. The spaghetti at Trader Joe's is a new favorite of mine, have you tried it? Now it's not homemade by any means, so if homemade pasta is an option…please eat all of the homemade pasta! But unfortunately for most of us, we are going to have to settle for store bought pasta, so grab your favorite pasta and whip up these Slow Cooker Italian Meatballs.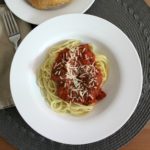 Slow Cooker Italian Meatballs
Yield: 20-24 meatballs.
I like to use my 1 and 1/2 tablespoon cookie scoop to portion out the meatballs. This helps keep them all the same size.
Ingredients
1

pound

lean ground beef or ground turkey

1

large egg

1/2

cup

panko bread crumbs

2

tablespoons

grated parmesan cheese

¼

teaspoon

garlic powder

½

teaspoon

dried oregano

½

teaspoon

dried basil

2

tablespoons

milk

-

I use 1%

1-2

tablespoons

oil

-

to fry meatballs

2

(24 ounce) jars marinara sauce
Instructions
In a mixing bowl, lightly whisk egg. Add ground beef, panko, parmesan, garlic powder, oregano, basil, and milk and mix until just combined. Be careful not to overmix.

Form mixture into 1-2 inch meatballs, I use my 1 and 1/2 tablespoon cookie scoop to help form even meatballs.

Heat 1-2 tablespoons olive oil in a large skillet over medium high heat. Cook meatballs in batches of 10-12 (don't over crowd the skillet), until they are golden brown on the outside. Note: the meatballs will not be cooked through at this step and will continue cooking in the slow cooker.

Place meatballs into the bottom of a slow cooker, cover with marinara sauce and stir to combine.

Cover slow cooker and cook on high for 4-6 hours, until the meatballs are cooked through.

Serve over hot pasta with parmesan cheese.