Today we have the first recipe made in my new kitchen! Can we just take a moment to celebrate the fact that Mr. Sam and I bought our first house!! And y'all, there is an island in my kitchen! Whoop! Whoop! It's the counter space and storage that I always knew I needed. And these photos right here, taken on my new island. Ok, on to the real reason you stopped by.
Today we're talking about MAPLE + BACON
With just 5 ingredients, this dip comes together with only 5 minutes of hands-on prep time.
MAPLE
You need maple syrup and I just have one request: please buy the real stuff and don't use pancake syrup. Ok, moving on.
BACON
You need cooked bacon for this recipe. I'll admit that cooking bacon intimidated me for years, but then I heard about baking bacon in the oven and my life was changed. This method is really simple and there's no splattering grease!
Line a rimmed baking sheet with parchment paper and then lay the bacon in an even layer on the lined sheet.
Place the baking sheet into a cold oven. Set the temperature to 400 and cook for 25-30 minutes (cook time includes the preheat time). The time will be impacted by how thick your bacon slices are, so I like to set the time for 25 to start.
Remove from oven and transfer bacon slices to a paper towel-lined plate. Enjoy!
*important thing to note: there is bacon grease, so the rimmed baking sheet is imperative to contain it.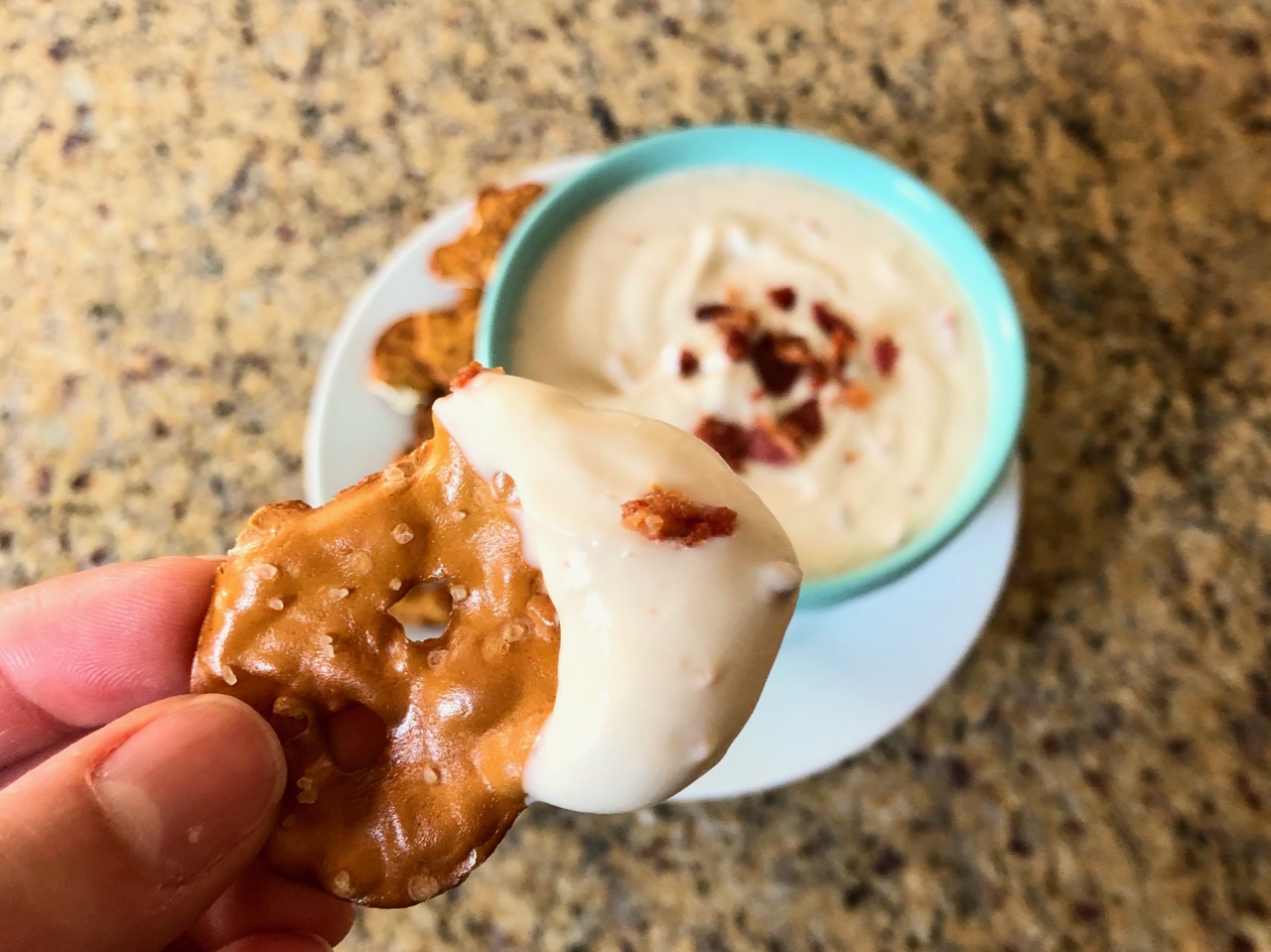 This recipe is game day approved and made an appearance on Saturday for College Football! #GOBUCKS
Feel free to taste test as you go, but just know that the flavors bloom while the dip rests in the fridge.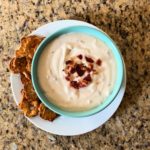 Maple Bacon Dip
Maple and Bacon combine to make a delicious dip!
Ingredients
8

slices

of bacon

-

cooked until crispy

2

cups

plain Greek yogurt

1/4

cup

maple syrup

2

tablespoons

brown sugar

1

teaspoon

vanilla

Apple slices or pretzel crisps for dipping.
Instructions
In a glass liquid measuring cup or microwave safe bowl combine maple syrup, brown sugar, and vanilla. Microwave for 30 seconds to help the sugar incorporate.

In a medium bowl whisk together the Greek yogurt and syrup mixture until combined.

Chop the bacon into small pieces, fold 2/3 of the bacon into the yogurt mixture and transfer to a serving bowl. Top with remaining bacon pieces.