After I graduated from college I got an apartment with a couple friends and I quickly discovered that I only knew how to cook for a crowd! One of my married friends who lived in the area definitely looked out for me during my first couple of years on my own. Tiffani was a couple of years older than I was and she let me come over for dinner often and always sent me home with leftovers. She gave me this recipe she cut out of a magazine that had a cooking for one section and I've now adapted it to feed four.
Growing up I was pretty neutral to meatloaf. I would eat it when my mom served it, but I wouldn't request it. This recipe changed all of my thoughts on meatloaf. I remember the first time I made it for my husband he was a little hesitant, but I think I won him over too.
The recipe calls for cheddar cheese, but I think shredded parmesan might be a nice change.  I typically serve this meatloaf with a green vegetable and a baked potato. I wrap leftovers individually in foil before placing in a freezer bag, then thaw in the fridge and reheat in the oven at 350.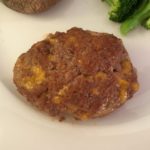 Individual Meatloafs
Ingredients
1

pound

ground chuck

1/4

cup

fresh breadcrumbs

1

large egg

1/4

cup

ketchup

1/2

cup

shredded cheddar cheese

1/4

cup

grated carrot

1/4

teaspoon

salt

1/4

teaspoon

pepper
Instructions
Preheat oven to 375.

Combine ingredients in a large bowl. Divide into 4 portions and form into a 2 by 4 inch loaf and place on a rimmed baking sheet.

Bake for 30 minutes or until cooked through.
Notes
Recipe adapted from a magazine clipping. Sorry, I don't know which one!