No churn ice cream has been having a moment for the last couple of summers and I finally gave it a try last week! I know, I know, I'm super late to the game. But I'm here now and happy to report it did not disappoint!
It was simple and so delicious! And I kinda want to try ALL THE FLAVORS!
If you don't have access to an ice cream maker (or even if you do), I think it's a great option for homemade ice cream!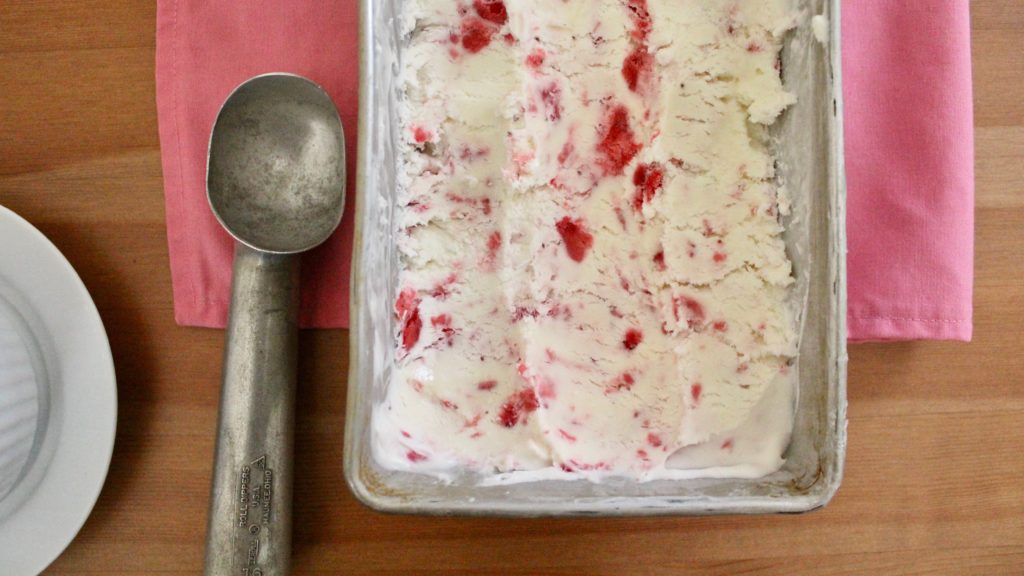 Today's recipe can be broken down into two parts, a fresh strawberry sauce, and then a 3-ingredient vanilla ice cream base.
Making the strawberry sauce: I combined diced strawberries and sugar in a saucepan and cooked them until the strawberries were broken down. Then I added a little bit of cornstarch and water to make a nice and thick sauce.
I used my immersion blender to break up some of the larger strawberry pieces before putting the sauce in the fridge for about 30 minutes so it would be nice and cold when I added it to the ice cream mixture.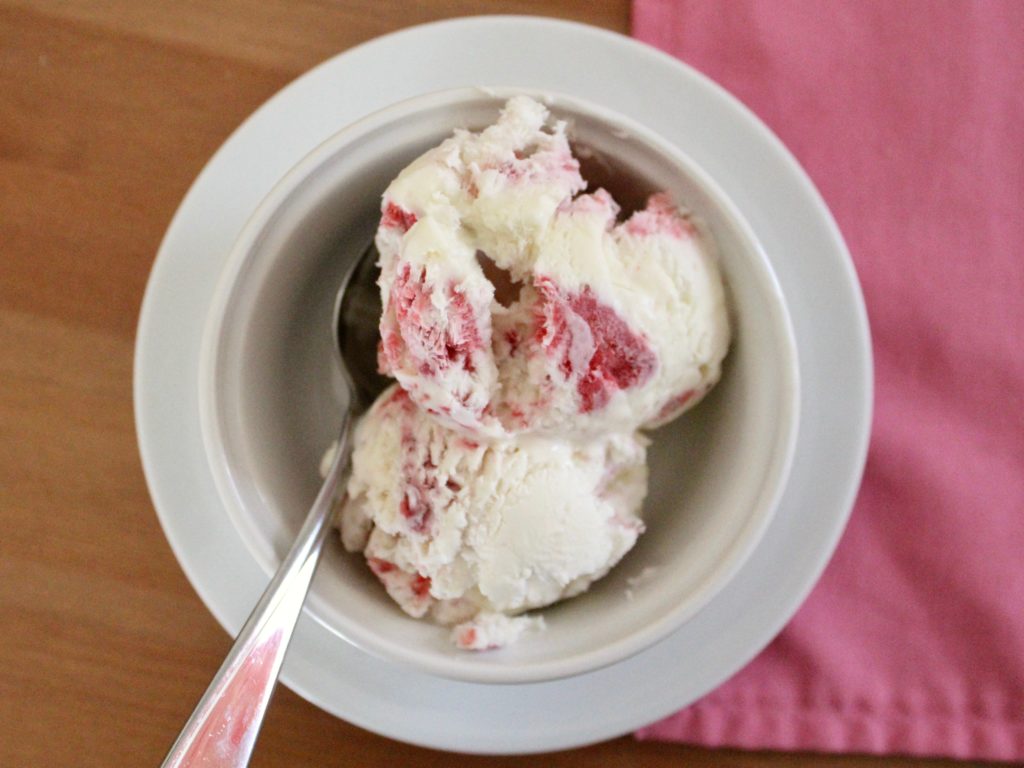 Making the ice cream: you start out by whipping your heavy cream. I used my stand mixer, but you can use a hand mixer or if you feel like getting super bionic, superpower, super wrists you can use a whisk and bowl. (did you catch that Gilmore Girls reference?)
Once your cream has reached the stiff peaks stage you will gently stir in the sweetened condensed milk and vanilla. Now you can stop right here and have delicious vanilla ice cream. And if you happen to have a cup of coffee nearby when you are making this…just throw a dollop on top. Trust me, it's scrumptious and will test your resolve to make ice cream altogether. But you must resist the temptation, your pants will thank you later.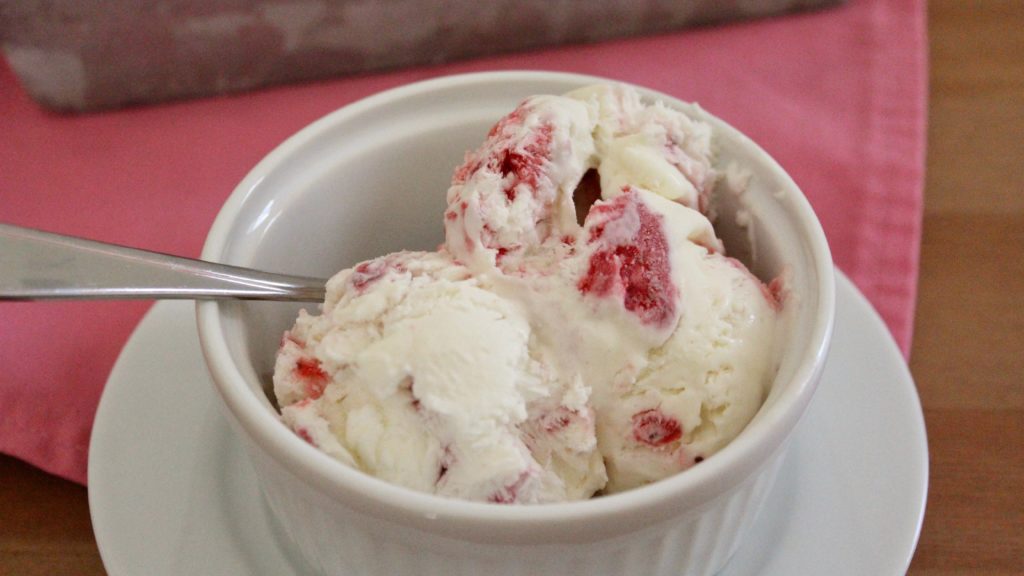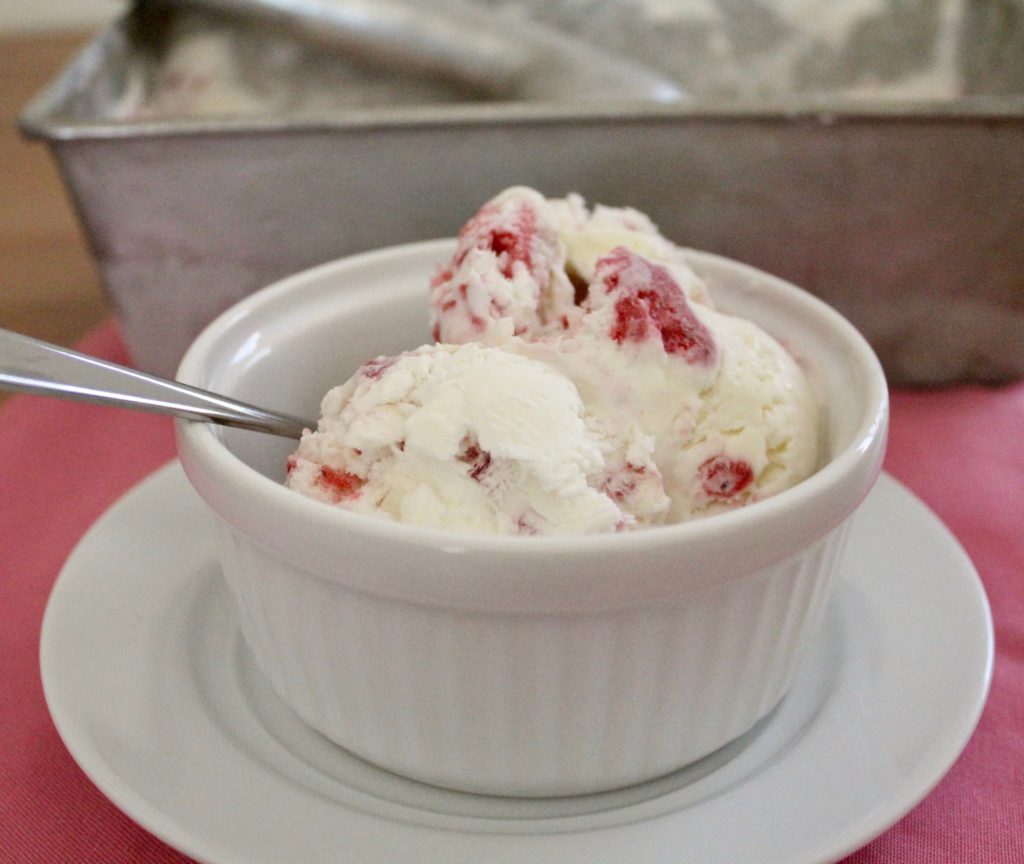 Now that you have your sweetened whipped cream, abandon the mixer and gently stir in the chilled strawberry sauce. I went for "lightly mixed with noticeable swirls of strawberry sauce".
This No Churn Ice Cream method might transform your summer! Have you tried No Churn Ice Cream before? If so, what's your favorite flavor?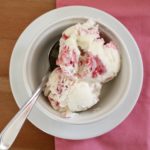 Fresh Strawberry Ice Cream – No Churn
No Churn Ice Cream is so simple, delicious, and perfect for summer!
Ingredients
Strawberry Sauce
1

cup

fresh strawberries

-

diced

2

tablespoons

sugar

1

teaspoon

cornstarch

2

teaspoons

water
Ice Cream
2

cups

heavy cream

1

14 ounce can

sweetened condensed milk

1

teaspoon

vanilla
Instructions
Strawberry Sauce
Combine strawberries and sugar in a small saucepan over medium heat and bring to a boil. Once it reaches a boil, reduce heat and stir frequently until the strawberries have cooked down about 10-15 minutes.

In a small bowl, whisk the cornstarch and water together, then add to the saucepan. Continue cooking for 2-3 minutes, or until mixture has thickened.


Place strawberry sauce in the fridge for about 30 minutes, or until chilled.
Ice Cream
In a large bowl or the bowl of a stand mixer, whip the cream until stiff peaks form, about 4 minutes.

Add sweetened condensed milk and vanilla and mix on low speed until just combined, scraping the bowl to make sure all is combined.

Using a rubber spatula, gently fold in the chilled strawberry sauce, until slightly swirled.

Pour into a loaf pan (I used a 9.5x5.5 sized pan), cover and freeze for 6-8 hours before serving.
Notes
Once the strawberry sauce has cooled slightly, you can use a blender to break up any large pieces of fruit.