I've been a little quiet this week because I'm visiting family and trying to spend more time with them than on social media. No worries, next week we will be back on track and I have some exciting new recipes to share with you!
Now on to the Honey Oat Granola. One night last week I decided to change up my favorite Dark Chocolate Granola and make a chocolate-free version. I kept the coconut but added sunflower seeds for even more flavor and crunch.
This granola definitely has a sweet and salty combo going on between the honey and brown sugar that is combined with the salted sunflower seeds. I also added a little cinnamon to give it some warmth.
One of the things I love about granola is that it is totally customizable. You can reduce the amount of sugar to make it less sweet, sub sliced almonds for the sunflower seeds, or even add dried fruit after the granola is cool.There are so many possibilities and you have no excuse not to find your perfect combo.
Our favorite ways to eat it are with yogurt and fresh fruit or as an ice cream topping! Enjoy!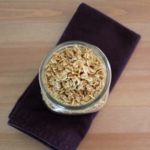 Honey Oat Granola
This granola is a delicious combo of sweet and salty.

Ingredients
3

cups

rolled oats

1

cup

shredded coconut

1/4

cup

sunflower seeds

-

dry roasted and salted

1/3

cup

brown sugar

1/4

cup

melted butter

1/4

cup

honey

1

teaspoon

vanilla

1/4

teaspoon

coarse salt

1/2

teaspoon

cinnamon
Instructions
Preheat oven to 250 (the lowest my oven is marked is 260, so I used that.) Line a large baking sheet with parchment paper or a silpat liner.

In a large bowl, mix together the oats, coconut, sunflower seeds, and brown sugar.

In a separate bowl or liquid measuring cup, combine honey, butter, vanilla, salt, and cinnamon.

Pour the wet ingredients over the dry and stir until combined. Spread mixture evenly on the baking sheet.

Bake for 30 minutes, stir and return to the oven to bake for another 30-45 minutes. The granola will be fragrant and slightly crisp.

Remove from the oven and let the granola cool, this will be about 1 hour. Break any large pieces up and store the granola in an airtight container.
Notes
I only had 1/4 cup of sunflower seeds on hand when I made this, but you could add 1/2 cup or even up to 1 cup.
Inspired by my favorite Dark Chocolate Granola.