How cute are these Itty Bitty Mini Pretzels?! When I saw them at the grocery store I knew they were coming home with me. Lol. (They remind me of the pretzels they serve on airplanes). I found them at my local Wegmans grocery store, but it looks like Target and Amazon carry them too!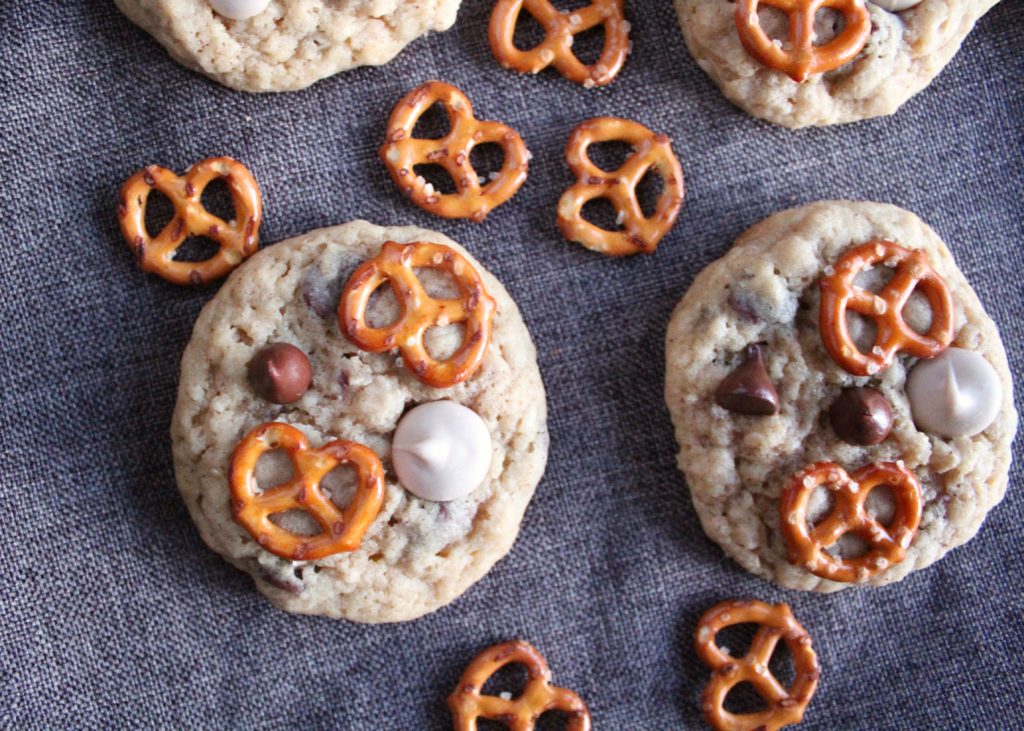 So after getting these pretzels home I then had to decide what recipe to use them in. Of course, my mind went immediately to putting them in cookies with chocolate and caramel. I knew I needed a hearty cookie to not be overwhelmed by the pretzels, so I went right to these longtime favorites and spoiler alert: there's no chilling required!
Today's cookies are full of texture from the oatmeal, chocolate and caramel chips, AND pretzels. And there are so many flavors going on here: spicy cinnamon, hearty oats, sweet chocolate, buttery caramel, and salty pretzels. Ok, I think I just drooled on my keyboard.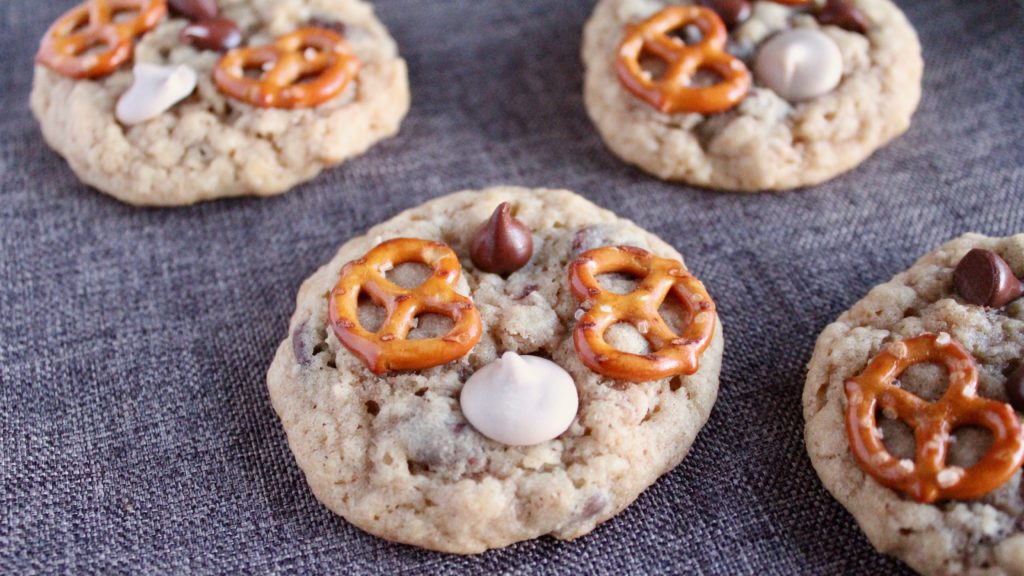 The first time I made the cookies I wanted to add the pretzels straight into the cookie dough, but they soaked up too much moisture and lost their structural integrity. Eww!
Next, I tried adding the pretzels to the cookies before baking and I didn't like those either.
Then I wondered what would happen if I added them on top of the cookies after they finished baking? The answer, the pretzels literally fell off the cookies when you picked them up! If you're keeping track, that's fail number 3.
By this point, Mr. Sam and I have sampled each failed attempt and were swimming in cookies when I had a breakthrough: "How about I take the cookies out of the oven halfway through baking and add the pretzels then?"
And that is how we got today's cookies!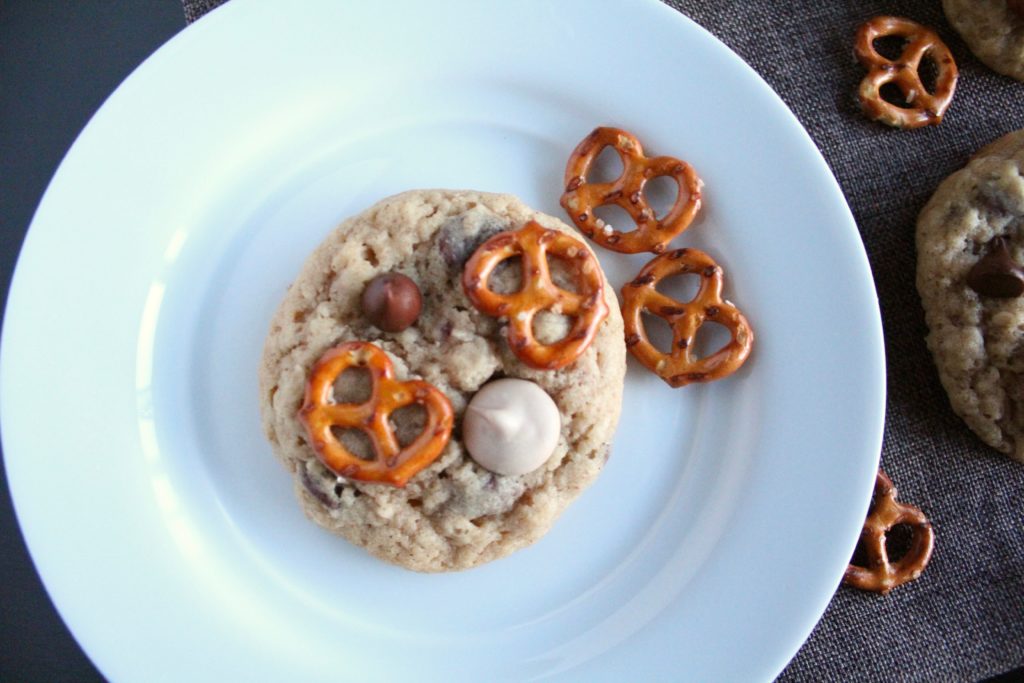 In these cookies, I used the caramel chips I also used in this recipe! And unlike most of the cookie recipes on my site, there is no chilling required. So you can have hot cookies less than 30 minutes after getting these pretzels home from the grocery store!
Grab some pretzels and get baking friends!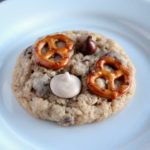 Caramel Pretzel Chocolate Chip Oatmeal Cookies
Caramel chips and pretzels make these Oatmeal cookies extra special!
Ingredients
1

cup

brown sugar

-

lightly packed

1/2

cup

sugar

1

cup

unsalted butter

-

softened to room temperature

2

eggs

-

room temperature

1

teaspoon

vanilla

2 3/4

cups

all-purpose flour

1

teaspoon

baking powder

1

teaspoon

baking soda

1/2

teaspoon

salt

2

teaspoons

cornstarch

1

teaspoon

cinnamon

1 1/2

cups

old-fashioned oatmeal

3/4

cup

chocolate chips

3/4

cup

caramel chips

1/2

cup

mini pretzels
Instructions
Preheat oven to 375 degrees.

Beat together the sugars and butter until combined, then add eggs and vanilla, and beat until fluffy.

In a separate bowl, combine the flour, baking powder, soda, salt, cornstarch, and cinnamon. Add to butter mixture and stir to combine. Stir in oatmeal, chocolate and caramel chips until combined, the batter will be very stiff.

Measure about 1 1/2 tablespoons of dough (I use a medium cookie scoop) and roll into a ball and place on a cookie sheet lined with parchment paper or a baking liner.

Bake for 5 minutes, remove pan from oven and push 2-3 pretzels into the top of each cookie. Return to the oven and bake for an additional 4-5 minutes, they will not look completely done but the edges will be lightly browned.

Let cookies cool for 5 minutes on the cookie sheet before removing to a cooling rack to cool completely.
Notes
If the pretzels you have are too big to put onto your cookies, just break them into smaller pieces, they'll still taste amazing! 
I used the Ghiradelli Caramel Baking chips for this recipe, but I noticed that a couple other brands are carrying caramel chips now too.
Based on these cookies.