While rice isn't spectacular, it is the foundation for several of our favorite dinners, one that I will be sharing later this week. It might be shocking but rice has given me fits over the years. I mean, the directions are on the bag, how hard can it be? Well after lots of nights with dry or hard rice I knew needed a new recipe. But there were a few rules, it needed to be sticky and fast.
This sticky rice lays the perfect foundation for the recipe I'm going to be sharing later this week. Think Chipotle meets Hibachi. Interested yet?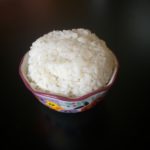 Sticky Rice
Ingredients
2

cups

medium grain white rice

3

and 1/2 cups water

Dash of salt
Instructions
Place rice in fine-mesh strainer set over a bowl. Rinse under running water, until the water runs clear.

Bring rinsed rice, water, and salt to boil in a medium saucepan over medium-high heat. Simmer uncovered until the water level drops below the surface of the rice, about 5-10 minutes.

Reduce the heat to low, cover and cook until rice is tender and water is fully absorbed, this will take about 5-10 minutes. Let sit for 10-15 minutes and serve.