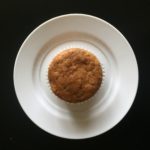 The bran flakes, all-bran and water mixture looks a little strange at first. But I promise if you let it sit while it cools and stir every few minutes it will come together.
In a large bowl with a tight fitting lid, place the wheat bran flakes and the all-bran and pour the boiling water over and mix well. Stir every couple of minutes while the mixture cools to room temperature. The mixture will be very thick and sticky.

After the mixture cools, add the buttermilk, melted butter, applesauce, sugar, eggs and vanilla and mix well. Add the flour, baking soda and salt. Mix well to combine all the ingredients together.

The batter can be covered and kept in the refrigerator for up to 14 days. To bake, scoop the batter into greased or lined muffin tins filled 3/4 full. Bake at 375 for about 15-17 minutes, until a toothpick inserted in the center of a muffin comes out clean.